A multi-sensory tour of the Basilica offers visitors an innovative experience of the medieval sculptures and royal and princely tombs in the cathedral-basilica of Saint-Denis. It shows the development of royal funerary sculpture from the XIIth to the XVIth century with the aid of specially adapted innovative aids to interpretation.The special exhibition is intended for persons with hearing, mental, motor and visual disabilities. Through touch, smell, hearing and sight, visitors can achieve a multi-sensory approach to the items presented, an approach which makes it ideally suited to those with multiple disabilities.
Touch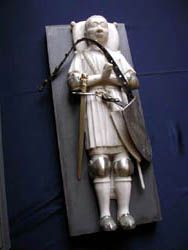 The royal necropolis in the Basilica of Saint-Denis has over 70 funerary statues, making it the most comprehensive collection of funerary sculptures in Europe.The tactile tomb and statues of François I and Claude de France9 tactile mouldings of funerary figures and three in original materials (stone, marble and bronze), specially selected to present styles and techniques ranging from the XIIth to the XVIth century as well as examples of the representation, in funerary statues, of kings, queens, royal children and major servants of the realm.16 cards and a historical fact-sheet featuring the personages are available in large print and in Braille.A tactile model of a plan of the royal necropolis shows the position of the many funerary statues in the nave and choir, as well as that of the tomb of Saint-Denis in the Basilica's crypt.
Hearing
The history of the Basilica and its funerary statues is presented on an accessible DVD offering a selection of medieval and Renaissance music.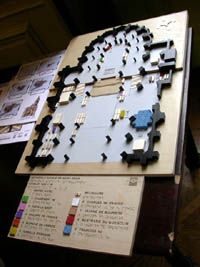 Sight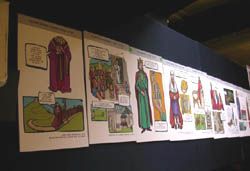 Scaled-down reproductions, faithful copies of the originals, enable visitors to study funerary sculptures of the medieval and Renaissance periods. Boxes of accessories contain unique items such as copies of garments, knights' armour and more besides.18 boards featuring comic strip drawings present in an attractive and graphic way the leading characters in the history of the Basilica. Two different versions are available for use, depending on the level of understanding and degree of difficulty of the visitor.
Smell
The sense of smell is aroused by the white, or Venetian, incense employed in medieval liturgies and by the aromas of beeswax recalling the abundant candelabras used in funeral ceremonies in Saint-Denis.
Directions
An accompanying file of supporting notes supplements the above information with factsheets for use by future guides around the exhibition.A film version of the directions with subtitles and with a French sign language plug-in is also on the DVD.
Conditions of loan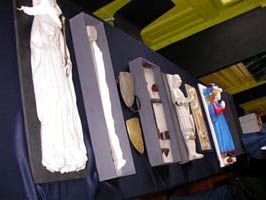 The pack is available by prior reservation and free of charge to associations and organisations concerned with persons with disability.Organised groups of persons with disabilities are also, by arrangement, entitled to a specially adapted guided tour or studio-workshop tour by application to the Basilica: Enquiries and bookings for specially adapted guided tours
Tel : 01 48 09 83 54
Fax : 01 48 09 83 66
Email : basilique-saint-denis@monuments-nationaux.fr