Charles I of Anjou, king of Sicily (1226 † 1285), king of Naples and of Sicily from 1266 to 1285, son of Louis VIII and Blanche de Castille, brother of Saint Louis.
Charles I of Anjou went in conquest of Sicily. He was expelled from there in 1282 in the aftermath of the "Sicilian vespers". His body was buried in Naples and his heart sent to Paris.
This recumbent effigy was commissioned towards 1326 by queen of Hungary, Clemencia of Hungary, his great-grand-child. It is the only statue with a heart in Saint-Denis. The king, dressed in chain-mail, is represented as a knight. He is holding a broken sword in one hand and his heart in the other. The recumbent effigy only contains the king's heart.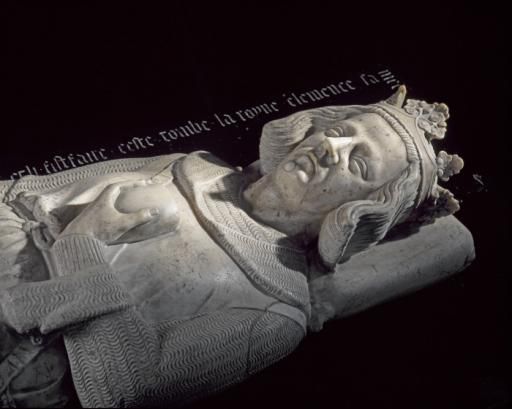 Recumbent effigy of Charles I, king of Sicily. © Pascal Lemaître - Centre des monuments nationaux.