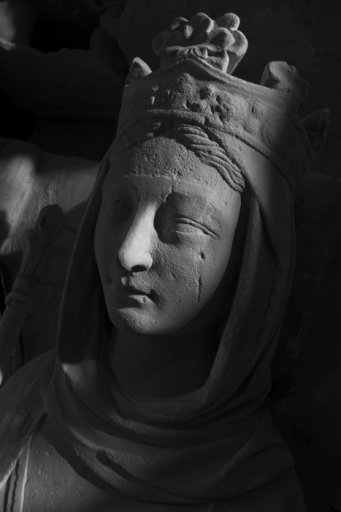 The lying recumbent of Ermentrude of Orleans is part of Saint-Louis order.
Ermentrude of Orleans, daughter of Count Eudes of Orleans and Engeltrude of Fezensac, married Charles the Bald in 842 and was crowned on August 25th in 866. She had four boys and five daughters: Louis II the Stutterer who inherited the throne in 877, Charles, King of Aquitaine, Lothair the Lame and Carloman ; Judith, Queen of Wessex and then Countess of Flanders, Rotrude, Hidegarde, Ermentrude and Gisele.
She separated from Charles in 867. She was not repudiated but retired to the abbey of Hasnon where she died in 869. Shortly after King Charles the Bald married Richilde of the Ardennes who had supposedly been his mistress for a long time.