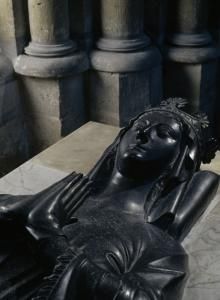 Marie of Brienne  (1225 † v. 1280),  the last Latino Empress of  Constantinople.
This black stoned recumbent effigy in the Saint-Denis Basilica raised many questions. This funerary effigy made in Tournais stone had been identified by some as that of Mahaut of Artois. And others attributed it to Blanche of Castille. The creator of the museums of French Monuments, Alexandre Lenoir even had it painted in white to give credibility to this assertion!
However some elements made it possible to associate this mysterious effigy to Marie of Brienne. Her gloves, her crown and her traditional oriental ring, as well as the dragons located at her foot, associated it with Marie, triumphant over evil.