Les Puces in the course of time... vintage!
Looking for a fun activity for the week end or on a Monday? Have a look around the  Puces de Saint-Ouen flea markets and travel back through time in the vintage boutiques.
Puces called "vintage" are thrift stalls and old clothes stalls, fashion accessories, retro jewelry, decorative objects and epoch furniture… Are you looking for "The" unique creation or are you just wandering around to get an idea about vintage fashion?  then this immersion is for you.
A desire to dress differently, to have a wardrobe with clothes from another generation, to stand out or simply have taste, a longing to satisfy your passion for "vintage style"? Go bargain-hunting, you will definitely find eye-catching laces on a garment or simply fabrics that catch your eye made by talented lace makers, find accessories such as old hats, scarves, coats, original thrift goods and lots of budget friendly bargains…
Wander around the Paris flea market on the top floors of Dauphine market, step into a small street called Le Passage, and find yourself in the Serpette and Vernaison markets…
Vintage boutiques and second hand stores at Flea market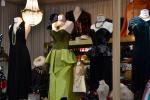 Alain Fradin et Eric Fleuret : twentieth fashion vintage (located  alley 5 Stand 212)
Alexis T: fashion designer (Stand 58) 
Artémise et Cunégonde : Discover "Haute Couture" vintage (alley 1 Stand 28)
Chez Sarah: sales of vintages clothes and old accessories, jewelry, lace, ribbons, furniture and also everything old-fashioned for women, men and children - Le Passage Market.
David Netter: clothes from the fifties to the eighties, Design-Vintage (alley 2 Stand 32)
Docks de la Radio Sopradio : TSF, phonographe, cinema
Falbala: Dauphine Market - 1st floor
Superb selection of eighteenth century clothes up to the seventies for men and women ( dresses, costumes, lace, fine lingerie, corsets, shoes, hats and other accessories). It is an amazing, charming and affordable..
Foxystand : clothes, shoes, boots, Vintage (stand n°06).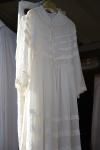 Francine Dentelles: collection dresses and lace (alley 7 stand 121/123 - Vernaison Market) : Are you looking for rare clothes with a sort of patina?….... rendez-vous at Francine Dentelles. There is a selection of old fabrics, clothes and accessories, rather expensive, from the nineteenth and the twentieth centuries, fragile and splendid. You will also find fine household linen from that era.
The military trench: here you will find military surplus and vintage items typically USA  (alongside Malik Market). If you are looking for rangers, navy coats, US shirts, Hawaiian shirts, bodysuits, badges from the different regiments, US large kit bags... this is the place for you.
Les merveilles de Babellou : vintage - from the nineteenth to the twentieth century (alley 1 stand 12-13 and alley 6 stand 77)
Located in  Paul Bert market and Serpette, these luxury vintage boutiques welcome you. Here you will find Haute couture dresses, old jewelry, ladies bags, belts, designer shoes (YSL, Lacroix, Chanel, Mugler, Hermès, Vuitton and many other brands...).
Mandana : luxury vintage clothes and accessories (Ground floor Stand 71 - Malassis Market) : This luxury clothing store has handbags, travel bags, accessories and scarfs... profusely vintage. Boutique Madana Vintage Paris sells authentic designer pieces in second-hand shops with bills and expertise as proof (Chanel, Hermès, Yves Saint Laurent, Vuitton and many other luxury brands…).
Martine Vintage : rendez-vous at 139 rue des Rosiers          
Patricia Attwood : "Haute Couture" vintage (Alley 2 Stand 7) – Serpette Market
This small boutique "sixties" style is where Patricia Attwood proposes a variety of  haute couture vintage accessories, dresses, etc.
Giraud Art Déco : vintage jewellery, furniture, Art déco, light fixtures (Stand 91 - 91 rue des Rosiers) : This 20th century specialist will propose treasures such as Circa luminary, Cristal, chandeliers, Murano lamps... bar known as "Papillon", furniture such as dressing tables, chest of drawers, mirror chiffonniers !
Sols Vintage: Generalist sales (Alley 6 Stand 234)
Sebbagh Virginie : Curiosity objects from the twentieth century (Alley 7 - Stand 146 bis)
Ali baba's Cavern : vintage toys, all flea market goods, raw and outsider Art  - Vintage "Toys and Collectibles"  
Habitat Vintage : Vintage shopping space at 77-81 rue des Rosiers around Puces de Saint-Ouen : the place is dedicated to the buying and resale of furniture and home accessories (bed, dining room, kitchen, etc.) which were parts of the former collection of the Habitat brand  (sixties, seventies, eighties and nineties). Find all you need to redecorate your home with a touch of antique furniture from another period and another style.
A map of the flea market and practical information are available at the tourist office located near the entrance to the market. 7 impasse Simon, 93400 Saint-Ouen.