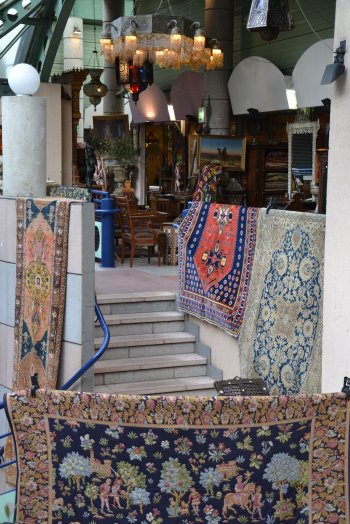 Carpets and tapestries occupy an important place in the textile arts. You can find at the Paris Saint-Ouen flea market located at the Porte de Clignancourt a large selection of carpets and tapestries: Turkish carpets, Persian carpets, Ghom-soie carpets, tufted carpets, wall tapestries, Aubusson tapestries, Flemish tapestries, Flanders tapestries, Jean Lurçat tapestries, tribal carpets, Art Deco carpets, etc.
Tapestry has evolved over time and developed in many regions of the world according to various weaving techniques and with various materials and motifs represented at the specialized dealers of the Paris Saint-Ouen Flea Market.
Find antique textiles at Leyla Ahi (booth 53, Dauphine market): fabrics, textiles, clothes and costumes from all periods, from the Copts to the early 21st century. Leyla Ahi works with decorators and costume designers for the cinema and the performing arts, collectors, furniture restorers...
Galerie Ahi (Stand 58, 59, 60 and 61 - marché Dauphine) specializes in antique tapestries from the 16th to the 20th century, Aubusson and Flanders tapestries, borders and upholstery. Mr. Ahi also offers cleaning, conservation and restoration of carpets and tapestries.
Galerie Buter (Gallery 7 & 124 - Aisle 1, Biron market), specialist in oriental carpets: silk and wool carpets from Iran, Turkey, China, etc.
Les Trésors de Perse (Marché Malassis) is a stand specializing in oriental furniture including antique Persian rugs and tapestries.
Ivan Cadiou (8 bis, rue Claude Monet, 93 400 Saint-Ouen - Marché Paul Bert Serpette): restorer of Empire armchairs, bar benches from the 50's, 1920's curtains, XIXth century wall hangings, upholsterer artist who works with antique dealers and luxury houses such as Vuitton who deals with him for the upholstering of their customers armchairs.
The Galerie Boccara is a showroom located at 99 Rue des Rosiers 93400, Saint-Ouen-Sur-Seine, specializing in French carpets (Savonnerie and Aubusson carpets) and artists' rugs. Didier Marien makes carpets by artists reproductions of works of famous painters and designs by Boccara.
In addition to the sale of tapestries and carpets, there are specialists in the restoration and cleaning of carpets at the Flea Market.