Bertrand du Guesclin (1320-1380), constable of France from 1370 to 1380
The grand knight Bertrand du Guesclin was very well known during his lifetime for his allegiance to the king, and also for his small stature (based on his recumbent effigy he measured less than 1m50). He apparently died from drinking water that was too cold during a siege in Lozère. His entrails were buried in Saint-Laurent-du-Puy, his flesh in Montferrand and his bones in Saint-Denis, his heart was sent to Dinan, his native city.
This funerary sculpture, commissioned by Charles V, was carried out by the sculptures Thomas Privé and Robert Loisel. It lies at the foot of the tomb of Charles V who demanded that the bones of his Army chief be laid next to him. This parangon of bravery is displayed as a knight, carrying shield and sword.
It is one of the first non royal recumbent effigies to have been sculpted for the basilica of Saint-Denis. In order to highlight allegiance to the kingship, a dozen servants of the crown were buried in Saint-Denis. The abbey became thus a pantheon of French monarchy.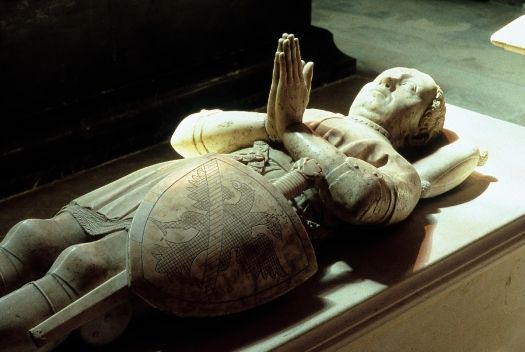 Tombstone of Bertrand du Guesclin, constable of Charles V. © Patrick Cadet - Centre des monuments nationaux.
Other officers of the realm buried in St Denis Cathedral :