Blanche of France († 1243) and Jean († 1268), daughter and son of Saint Louis and of Marguerite of Provence.
Saint Louis erected a tomb in memory of his two children who died young and who were inhumed at the abbey of Royaumont, the family necropolis.
The recumbent effigies of Blanche and Jean, precious evidence of Limousin enamel art of the thirteenth century, are among the rarest metal tombs preserved. They are located inside the Saint Denis Basilica.
This tomb shaped as a church doorway was decorated with a painted effigy containing the two gold-plated recumbent statues which were restored in the nineteenth century. The blue eyes of the children are represented wide open. Blanche holds what looks like a ball in her right hand.   Jean has a scepter, which was usually forbidden for a young child in France to hold.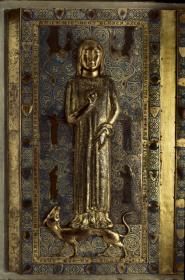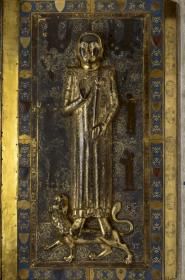 Recumbent effigies of Blanche and Jean de France, children of Saint-Louis, at Saint-Denis © Pascal Lemaître - Centre des monuments nationaux