Louis de France (1244 † 1260), the eldest son of Saint Louis and Marguerite de Provence
Louis, dead at only 17, had no time to reign. His effigy was made shortly after his death for the Saint-Louis family necropolis, Royaumont abbey.
Although it has been restored many times, it remains original in the movement of the hands and in the treatment of the concrete ring beam. The funeral procession is composed of clergy and non-clergy in movement in front of a blue background in molten glass. One of the concrete beam panels was made by Eugène Viollet-le-Duc from the original which can be seen at the Carnavalet museum. It shows four characters including those of Saint Louis and Henry II of England, present at the funeral when he should have gone to England, carrying the stretcher on which the young prince lay. On one of the panels by Eugène Viollet-le-Duc you can see two mourners frozen in an attitude of grief.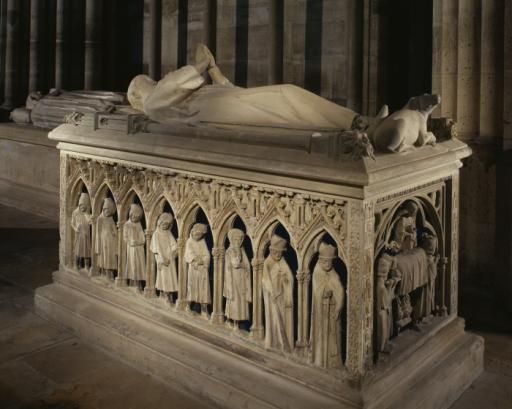 Recumbent effigy of Louis de France in the cathedral Basilica of Saint-Denis  © Pascal Lemaître - Centre des monuments nationaux.