Philippe de France, son of Louis VII and Blanche of Castille, the younger brother of Saint Louis.
The tomb of Philippe of France comes from Royaumont abbey, one of the necropolis from the family of Saint Louis.
The head of Philippe de France rests on a pillow and is supported by two angels. At his feet lies a lion holding a bone between his paws. Traces of polychrome shows that the young prince's clothes were painted with a golden fleur de lys on a blue background. This polychromy is now being studied with the École Centrale.competitive exam procedure.
We find the first occurrence of the theme of the funeral procession which was to be recurrent  thereafter, painted on the walls of the concrete ring beam. It shows alternating characters dressed in mourning cloaks and angels. These sculptures were restored in the nineteenth century from fragments in the Louvre museum and in the fake tombs of Héloïse and Abélard at Père Lachaise cemetery.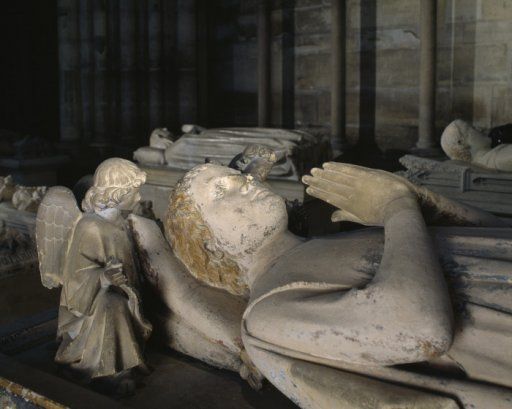 Recumbent effigy of Philippe de France Saint-Denis Basilica.
© Pascal Lemaître - Centre des monuments nationaux