Philippe VI de Valois (1294 † 1350), King of France from 1328 to 1350, son of Charles de Valois and Marguerite de Sicile.
Philippe VI acceded to the throne in 1328 at the death of Jean Ier le Posthume who has neither son, nor brother. He is preferred to the grandson of Philippe V le Long, Philippe de Bourgogne, and to the grandson of Philippe le Bel, Édouard III of England. Édouard III of England also claims to reign on France and does not recognize its sovereignty. From the rivalry of the two grandsons of Philippe le Bel, the Hundred Years War was born.
This funerary statue is realistic, the worn out face of the sovereign supreme represents the end of the difficult reign marked by war, famine and plague. The emblem of the coronation, the scepter and the hand of justice, which no longer exist, as well as the four-fleuron-crown which is said to have belonged to Charlemagne, are represented to proclaim the legitimacy of the supreme Valois Dynasty. The sculptor André Beauneveu was commissioned by Charles V, his grandson, to create this recumbent statue in 1364.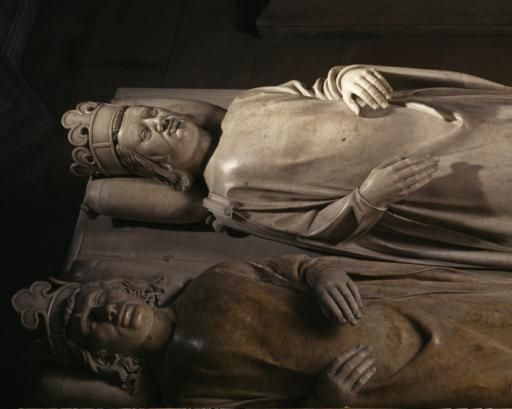 Lying recumbent Philippe VI of Valois and his son John II the Good (in the background). © Pascal Lemaître - Centre des monuments nationaux.