In 1998, when the north-facing garden of the basilica was being developed, the Archaeology unit stumbled upon sixty or so mullions originally part of the two rose windows from this present-day gothic cathedral.
On the photo below, a suggestive creation of the north rose window, staging the original mullioned columns, is situated in front of the 19th century copy that is still in place ; we can appreciate the techniques used by the stone-cutters and the contemporary sculptures by the famous 13th century architect, Pierre de Montreuil.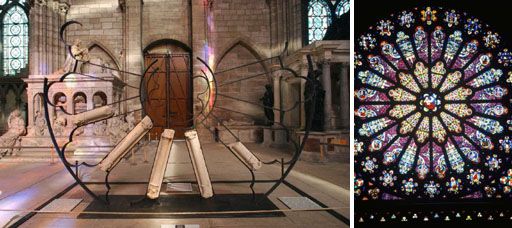 Facing each other, a suggested reconstruction of the 13th century north rose window (on display during the exhibition Basilique Secrète) and the 19th century rose window in place. The reproduced part corresponds to the centre of the rose window, which includes the yellow-orange stained-glass. Northern arm of the transcept. On the left : © P. Cadet - CMN ; on the right : © C.Rose - CMN.