The west façade and the clock
Since August 2015, one can admire the west facade of the Basilica of Saint-Denis restored to its original beauty. The Cathedral has recovered its purity, its decorative gilding and its beautiful clock.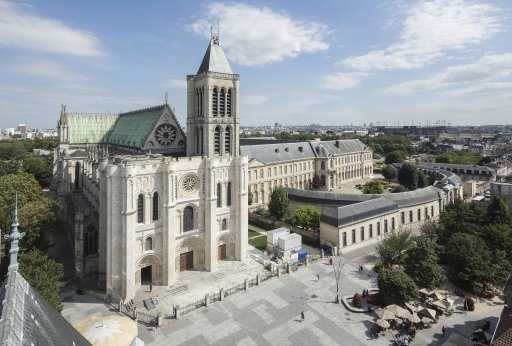 © Pascal Lemaître - Centre des monuments nationaux
The restored façade reveals the history of Saint-Denis cathedral
This restoration makes reference to the long history of the Basilica. It has been inspired by the restoration work carried out by François Debret in the 19th century. Nevertheless, it maintains the spirit of Abbot Suger through medieval polychromic features.
Restoration work, for the value of ¤3,15 M, was funded by the French State. It involved cleaning and restoring the façade and the tympanums as well as restoration of the rosette window and the clock with its snake-shaped hands. An electric engine could be added to this clock which, at the moment, has to be wound up every day.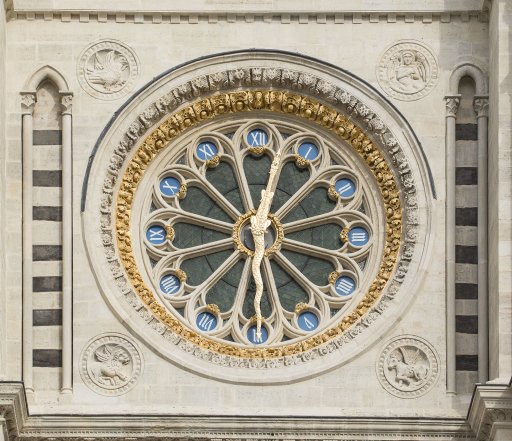 © Pascal Lemaître - Centre des monuments nationaux
The cleaning of the façade which was done by micro-abrasion revealed traces of polychromy. The white façade is enhanced by gilding and the blue background of the Roman numerals of the clock. On the north and south bays, the names of the French kings are inscribed below their statues. The names are written in red according to medieval tradition.
Three years of restoration and many trades
Restoration work began in 2012. It involved different areas of construction work: stone masons, carpenters, glassmakers… The craftsmen started by cleaning the north bay and restoring all of the sculptures. Then, they restored the south bay and the choir inside the cathedral.
The project to reassemble the Cathedral spire was the subject of the French President's visit on the occasion of European Heritage Days in September 2015. François Hollande authorized a preliminary study to be carried out.