Philippe III the Bold (1245 † 1285), king of France from 1270 to 1285, son of  saint Louis and Marguerite de Provence, husband of Isabella of Aragon.
This recumbent statue created in 1307 by Jean d'Arras, marked a turning point in the way of representing deceased sovereign figures. This funerary representation, in particular the facial features, shows more detail than previous recumbent statues and prefigures the art of  portraiture in the 14th and 15th centuries.
This marble recumbent statue, originally colour-enhanced, rests on a slab of black marble with lions at its feet, the symbol of strength and resurrection. His son Charles, Count of Valois whose leg statue was broken during the Revolution wasn't as lucky.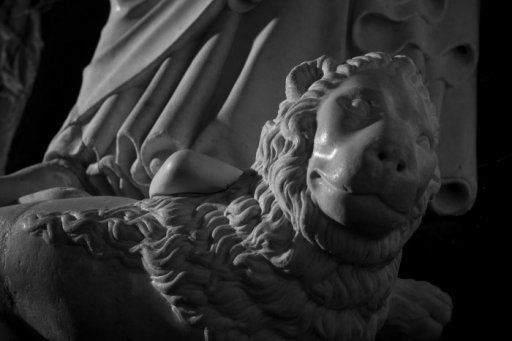 Lion at the feet of Philippe III the Bold © Jean-Christophe Ballot
Centre des monuments nationaux
Related: His son Louis Count of Evreux also has a recumbent statue in the Basilica.