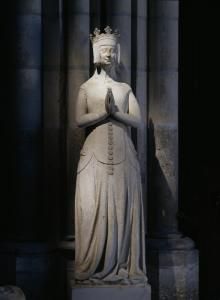 Beatrice of Bourbon, Queen of Bohemia † 1383, was the daughter of Louis Ier of Bourbon and Marie of Hainaut, wife of Jean of Luxembourg, King of Bohemia.
This funerary effigy is located in the Jacobin church in Paris. This funerary statue is an example of a monument resting on a column.
Beatrice of Bourbon is dressed with the typical Aristocratic dress dating from the end of the fourteenth century.
More information about recumbent effigies.