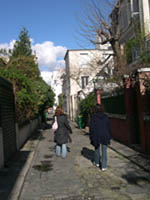 The Seine-Saint-Denis Tourist Board, in partnership with local tourist offices and numerous associations, is launching a series of town trails across Seine-Saint-Denis.
Douce Banlieue
The "Douce Banlieue" project (the name is borrowed from the title of the work by Gérard Mordillat and Frédérique Jacquet, recently published by Editions de l'Atelier) offers opportunities to discover Seine-Saint-Denis as it really is, "hard-living and gentle-hearted".

These trails will take visitors in the footsteps of some of the famous people who have made their mark on the history of Seine-Saint-Denis, such as the chemist Alfred Nobel, the film director René Clair, the goldsmith Christofle, the architect André Lurçat and the Marquise de Sévigné.

They will also offer the opportunity to encounter local residents such as craftsmen, vine-growers, beekeepers, university staff, leaders of local associations, artists and others, who will share with you their know-how and their passion for their work.
In addition the trails will show you something of the area's surprising and often little-known heritage: its churches, abbeys and chateaux, as well as its factories, garden cities and buildings with their remarkable architecture.
 
The partners
The Seine-Saint-Denis Tourist Board received many replies to its invitation to submit suggestions for discovery trails to be included in its publication:

The Tourist Offices of Bobigny, Livry-Gargan, Montreuil, Noisy-le-Grand, Saint-Denis Plaine Commune and Saint-Ouen, associations (Initiatives-Environnement in L'Ile-Saint-Denis, Murs à Pêches, the Friends of La Poudrerie Forest Park, the Friends of Notre-Dame des Missions), the Centre National Dramatique in Montreuil, the Parks and Gardens Department and the Heritage Department of the Conseil Général, CAUE 93, Plaine Commune, the Mairie in Aubervilliers and the Environment Department in Coubron.
 
Pratical information
Each is intended for individual participants and is accompanied by a guide.
Please note : the tours in the Douce Banlieue programme are meant for French-speaking visitors. However, there are tours available in other languages. Please contact us for further information.

 Tel. : + 33 (0)1 49 15 98 98  

info@tourisme93.com