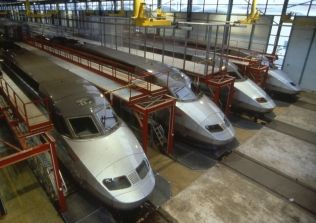 A visit for train lovers
A train enthusiast since your childhood ?  Are you a railway fan of small and big, railway transport in general ? Or are you simply a user of public transport and want to meet the railway professionals who will detail their jobs and the maintenance work involved and all the latest technologies through models, simulations and equipment ? Do you want to learn more about how the metro and tram around Paris operates? Do not miss these small budget visits scheduled all year round in Paris and Ile de France!
Trains and jobs at SNCF
The French National Railway company, the main operator for parts of the public transport in Paris and the wider area Ile de France. During these diverse visits in stations and technical transport centers for Paris and its suburbs, you will be able to take the place of the train driver to drive and maneuver a Transilien train on a very realistic train simulator. You can also choose a visit to accompany a ticket inspector who will explain all aspects of his job on the different network lines. Another visit proposed on the theme of railways, maintenance on high speed trains at the center Technicentre SNCF, a maintenance workshop for TGVs only.  Here are the current train visits proposed by RATP.
Visit the Parisian Metro
The Parisian metro serves Paris and surrounding areas with 16 metro lines covering more than 200 kilometers. This Parisian transport symbol with its 300 metros stations opened in July 1900 for the Olympics games. « Le métro de Paris » transports more than 4 million passengers each day.
During the different visits, you will discover the maintenance workshop, on rail equipment, the workings of a control station and maintenance station of a metro line, or else the chance to enter the site devoted to the maintenance of the RATP network. Visit of sites under construction for the extension of a metro line or the opening of a new tramway line are proposed. Book online (french website). 
Deportation station in Bobigny
Listed as a historic monument in 2005, Bobigny railway station is the only example of a deportation train station preserved in its original state. The station was used as a departure point towards Auschwitz extermination camp between1943 and 1944. Guided tours with a qualified-guide are proposed regularly at Bobigny deportation station.
A small train museum in Paris Ile de France
In Rosny-sous-Bois station easily accessible from Paris by RER, there is a small railway museum Rosny Rail. Volunteers operate the museum, open on Saturdays only, it shows a dozen places devoted to railways: station hall, railways, signalisation…. You will also find miniatures and little models of the railway network.  Visitors are invited to enter a cabin to drive a small model train. For more information, please contact the museum.
Modelism at Gare de l'Est
If you are a fan of miniature trains, small model trains, do not miss the meeting point in the basement of Gare de L'Est where you will find the "Association Française des amis des chemins de fer" an association of the French national railway company. Every Saturday afternoon you can fully appreciate different networks of railroad models and get access to the library on the theme of railways. Film screenings are also regularly proposed.  Access to the headquaters of AFAC via Alsace access ramp is located on the left of the station. Take the first door on the right (door N°9) in the underground courtyard and go up one floor.
Repair workshops located in La Plaine, historic monument in Saint-Denis
The warehouse la Plaine is located in Plaine-Saint-Denis at Saint-Denis, a former installation  of the company : Compagnie du Nord situated close to Gare du Nord. This depot, put into service in the nineteenth century to maintain steam engines, was bombed during the Second World War. After the war, it was converted into a warehouse devoted to the maintenance of diesel locomotives owned by the French company SNCF. Today, you can just see the concrete buildings known as « cathédrales du rail » (railway cathedral). The building has been listed as a historical monument since 2004.
A railcar mover at Plaine Saint-Denis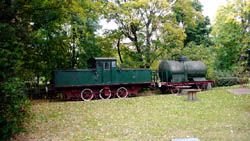 The relics of Société du Chemin de Fer Industriel is still present in Saint-Denis. The Chemin de Fer Industrial building is still visible at 124 avenue de Président Wilson despite its transformations. At 50 avenue du Président Wilson, the entrance to Magasins Généraux, one can see an electrical railcar mover AEG -  accumulators and three wheel shaft. This railway engine used for maneuvering wagons and convoys dates from 1930 and  is easily recognizable because of the shape of its car hood known as the "salt box".
More suggestions in Paris for railway lovers
A stroll around the Parisian "petite ceinture"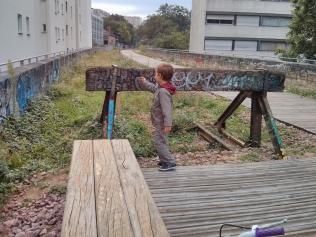 Be sure to stroll along the Parisian inner rail-belt.  Trains no longer borrow this double track line that runs around Paris; some parts of it are open to pedestrians, walkers, joggers and families.
Opened in 2013, this small ring around the 15th district stretches between Place Balard and Olivier-de-Serres road. Two steps from boulevard des Maréchaux and tramway T3 line, discover the 1.3 kilometers of green space. Stroll alongside the rails and admire this railway heritage and the remarkably well-preserved flora.
 
Read more on la Petite Ceinture online on paris.fr (french)
Another section of the inner ring is accessible in the16th arrondissement between Porte d'Auteuil and Porte de la Muette. Information and access on Paris.fr
Don't miss our other factory visits.