Are you planning a short visit to Paris for 4 days? We suggest many day trip ideas in Paris for you to choose from.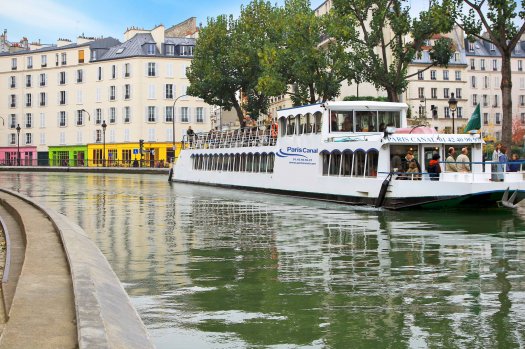 The Seine and canals of Paris
Paris, the river Seine, Bateaux-Mouches, the canals… Why not devote one of the four days during your stay in Paris on water? A pleasant way to visit the capital.
The banks of the Seine are not to be missed during a 4-day visit to Paris. Start your visit of the capital on Île de la Cité where the history of Paris begins. Notre-Dame can be visited free of charge. If you are passionate about Gothic architecture, you can discover the Basilica of Saint-Denis, the royal necropolis and jewel of radiant gothic art.

Rendez-vous at République to discover Canal Saint-Martin. On foot, bicycle or boat, go along the canal and its banks and immerse yourself into the relaxing atmosphere of the canal, its shops and cafés. Many restaurants are open for lunch.
Make your way towards Bassin de La Villette and the Canal de l'Ourcq up to Parc de la Villette. Many cruises are proposed from Bassin de La Villette : so why not take a barge to discover all the treasures of Canal de l'Ourcq : Street-art, industrial heritage, etc. You can also pursue your journey to Cité des sciences or simply ramble around in the park.
Paris retro and popular: Montmartre, Barbès & the Flea Market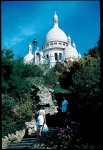 From your hotel at Gare de l'Est or Gare du Nord, you can walk to the unmissable sites in Montmartre to discover the Sacré-c½ur, Place du tertre and its painters. Take the opportunity to discover the Halle St-Pierre and its quirky exhibitions. You can also continue on to Pigalle and the Moulin Rouge.
Do not miss "Little India" neighbourhood, rue Cail and area around Gare du Nord.
We suggest you visit the Paris Saint-Ouen Flea markets (open from Friday to Sunday). You can have lunch in a restaurant at the Flea market and then go bargain-hunting in the various markets and stands.
On other days, you can opt for a visit to Barbès and Goutte d'or neighbourhoods to discover cosmopolitan Paris and do some shopping. Guided visits of the popular districts in Paris are proposed.
You can also go to the 9e district in Paris to see the Grands Boulevards and do some window-shopping at some of the famous boutiques brands on boulevard Haussman. In the evening, you can go for a drink or dance in one of the many bars in the area
There are many theatres around République to see a play or show.
Paris Bling bling, Paris Shopping
A golden itinerary of classy chic boutiques at prosperous Versailles.
Take the opportunity of being in Paris to visit the Château de Versailles, take half a day for the whole visit. On your way back to the centre de Paris by RER C. take the exit Champ de Mars to see the Eiffel Tower and Champ de Mars and then continue to the mythical place Vendôme and its luxury boutiques via the chic rue Saint-Honoré.
If you have some shopping to do go to Châtelet where you will find more cost-friendly boutiques. Discover some Paris department stores.
Paris arty

Discover Beaubourg and the Centre Pompidou, and take the opportunity to discover Le Marais and its various art galleries. You will find several contemporary art centers in Paris : Palais de Tokyo, Plateau in the19th district, etc.
Some of the Paris streets are, in themselves, a vast open-air gallery: stencils, graffiti, mural frescoes, etc. Street-art is at every corner. You can go back to République and the quarter of Ménilmontant or continue to Canal de l'Ourcq, largely taken over by street artists.
Where to sleep during your short stay in Paris?
Paris is not a very big city, so you can stay in the same hotel during your entire visit. Go back and forth to your hotel each day thus avoiding the stress of moving around with your luggage.
If you are staying just a few days in Paris, it is best to choose a hotel in the heart of Paris. Book a hotel room around Gare de l'Est which is a good solution as it gives you rapid access to many sites of interest.
Paris Tourist Office proposes: Pass to discover Paris.