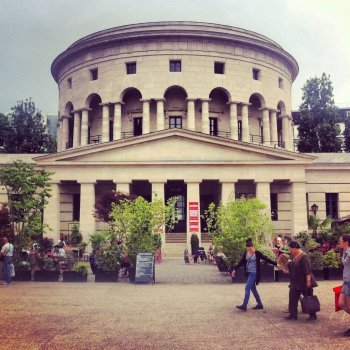 This walk goes from Place de la bataille de Stalingrad to Parc de la Villette in the 19th arrondissement of Paris and onto Pantin. The 2 hour itinerary on the banks of the Bassin de la Villette and Canal de l'Ourcq is not particularly difficult. It may take longer if you go into one of the many bars, restaurants or shops in this neighbourhood.
Your start from place de la bataille de Stalingrad, in front of an imposing building called Rotonde de la Villette. It had been built as a kind of border post between Paris and its suburbs where customs duties on goods had to be paid. It is today a trendy restaurant.
Cross the esplanade and step onto the bridge on the right to join Quai de la Loire. Walk on the cobblestones along the Bassin de la Villette and notice the two former port warehouses which have been transformed into cinema complexes MK2. On both sides of the Bassin, barges have been converted into bars, restaurants or little concert halls. Further down the bank, you can see, on your left, the skyline drawn by asymmetric buildings called "Les orgues de Flandre" (Organs of Flanders).
Step onto the Passerelle de Moselle and contemplate the largest artificial body of water in Paris. On quai de Seine, after having passed in front of a small marina, you come across a modern building which has the same shape as an older building located on the other bank. Originally, two General stores industrial buildings faced each other. One of them was ruined by fire and a hotel was reconstructed in 2008 in exactly the same shape. The other building has been restructured as a student residence.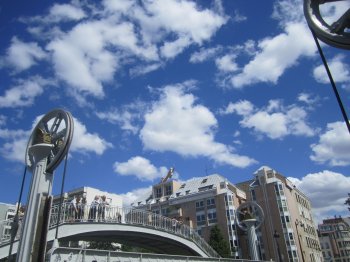 Behind these buildings, step onto the pedestrian footbridge which overhangs the only lift bridge in Paris. The panorama is superb and if you are lucky, you may see a boat sail under the bridge. Continue your walk along the second part of Bassin de la Villette on quai de la Marne. Pass under two bridges, the Pont de l'Ourcq and a former railroad bridge, and then enter Parc de la Villette at the junction of Bassin de la Villette, Canal Saint-Denis on the left and Canal de l'Ourcq in front.
Parc de la Villette is the largest urban park in Paris. You can enjoy its large lawns and gardens, visit La Cité des sciences (City of sciences) and le Musée de la musique or contemplate the Philharmonie de Paris.
After crossing Parc de la Villette, continue walking along canal de l'Ourcq and pass under the Paris ring road bridge. In Pantin, admire the industrial architecture of the former Moulins de Pantin, the concrete architecture of the Centre national de la Danse (national dance center) and after, the impressive former General stores which have been turned into an advertising company.
In Pantin you can take the metro (Eglise de Pantin station) to return to Place de la Bataille de Stalingrad (station Jaures).
Walk suggested by the City of Paris in the "Carnet de balade" Paris 2013-2014