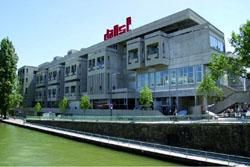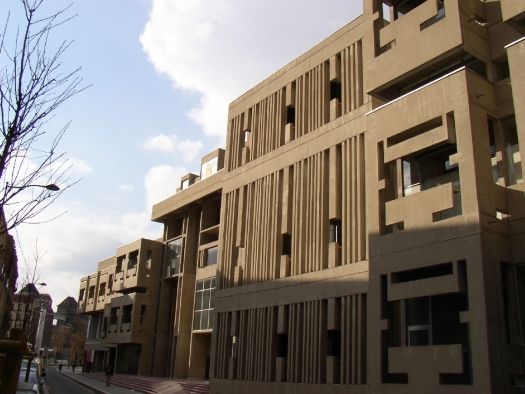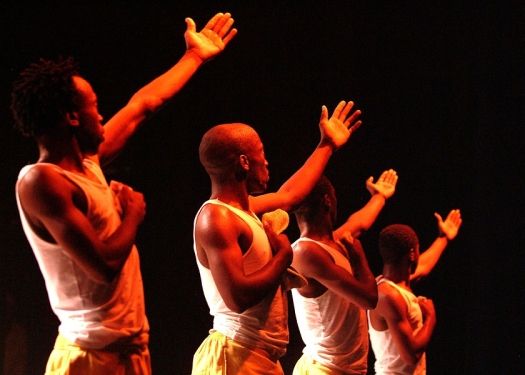 The "Centre National de la Danse" is a public institution created in November 1998 located in Pantin (Paris region) along the banks of Canal de L'Ourcq, near the Parc de la Villette and Cité des Sciences et de Industrie, la Geode and Dynamo Banlieues Bleues venue. Remarkable architecture for this exceptional place, it is devoted exclusively to dance or shows, debates and screenings season after season without forgetting the unique collection in its multimedia library (20 000 works, photographs, videos…) and of course the convivial coffee shop. A place to be discovered for its shows and architecture.
This large building of rough reinforced concrete and glass, called "neo-Brutalist" was designed by the architect Jacques Kalisz to shelter an administrative city. Indeed the Mayor of Pantin, Mr Jean Lolive, wanted to provide his town with an administrative center grouping together: a police station, a courthouse, a courts administration service, the treasury, a municipal tax office, a trade-union house…
In 1997, thanks to its beautifully lit volumes, the city of Pantin chose to offer it to the State for a token sum thus allowing for the "Centre National de la Danse" project to take shape. The two architects Antoinette Robain and Claire Guieysse were commissioned to refurbish the building. They were awarded the "Equerre D'Argent" in 2004 (the Silver T-square prize) for their work. The polychrome work, done by Hervé Audibert, highlighted inside the building, enables us to appreciate the originality and strength of its volumes at night.
The missions of the CND are oriented around four major areas of work: development of choreographic culture (preservation of its heritage in choreography, multimedia library, exchanges, conferences, publications…) support in the production and distribution of choreographic works (inside and outside CND ); organizing training sessions for artists and teachers and personalized support for dance professionals.
A double flight stairway was built in the center of this Atrium, the backbone of the CND, where the services and dance studios rotate. Placed at the service of creation and distribution, the Centre National de la Danse favours dialogue between the artist and the public, an open dance to other arts.
Several films were shot at the National Dance Centre
Jan Kouen - 99 francs (2006)
Julien Seri - Scorpion
Régis Wargnier- Pars vite et reviens tard
Choeur accentus, Le bal des actrices Maïwenn (2007)
Tv series such as Dianne femme flic (2008)