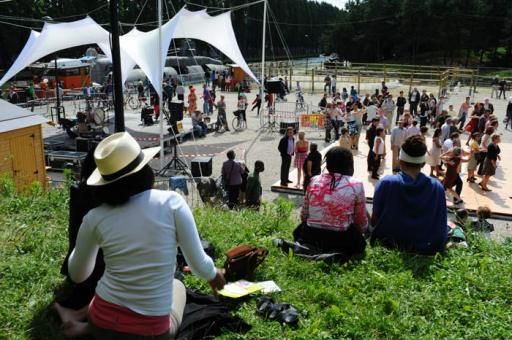 The month of August will be very lively this summer on the banks of Canal de l'Ourcq !
Workshops, festival on boats for the week-end for adults, teens, children
things to do  this summer
You are in Paris or its suburbs and don't know what to do in August 2016? Cinema, exhibitions, concerts, sports, relaxing activities...The Canal de l'Ourcq in summer offers a multitude of rich events, for all tastes and ages. Here is a list of suggestions and ideas to guarantee a pleasant summer at little or no expense!
Good tips for August 2016 in Paris and Ile-de-France
Outdoor cinema on the banks of the canal
Outdoor Cinema at Parc de la Villette : Outdoor cinema will take over the "Prairie du Triangle" in Parc de la Villette, from 13th July  21st August 2016. "Dress Code"  is the theme for this new edition of Outdoor Cinema at La Villette, which is still as popular as ever!For more information : The outdoor cinema programme Paris La Villette
Paris Plages at Bassin de la Villette
This edition of Paris Plages 2016 will be held from 18th July to 21st August 2016. Rendez-vous at Bassin de la Villette (Paris-19th) for a festive and fun-filled holiday in Paris. All activities in Paris Plage at Bassin de la Villette are free or almost. The best time to be at Paris Plage, early in the morning or at the beginning of the evening!
Concerts along the canal
Glazart beach : Every summer, enjoy this ephemeral and unique venue for music: an atypical oasis in the heart of the town welcomes you: La Plage 2.0 of Glazart. This open air rendez-vous offers high quality and eclectic programme from Monday to Sunday. Top billings, opening gigs, great discoveries and DJs will perform on stage from Wednesday to Sunday, concerts, DJ set, atypical crews... Many concerts are free. Entertainment every day for everyone!
Concerts, entertainment in August at Pantin close to Porte de Paris
free, at Mail Charles de Gaulle, metro Eglise de Pantin station

Free dance balls, or where to dance in August 2016 close to Paris ?
Dance balls are free
Boating under the August sun
For 1 or 2 euros opt for a cruise on the  canal ! The summer river shuttles are available each year in July and August on the canal. All boats sail on canal de l'Ourcq from Bassin de la Villette in Paris to Bobigny. And yes, for 1 euro per person per trip on Saturday and 2 euros on Sunday (for + 10 years old) it is possible to drift along the water for very little (free for children under 10 years old). And do not miss out on the brunch cruises, gourmet workshops or electro each week-end in August.  Hop on at Paris Bassin de la Villette.
See all cruises and visits organized in the month of  August 2016
Paris Summer concerts
Concerts and free shows in the four corners of the capital: Just like each year, Paris summer quarters invites you to travel worldwide by just staying here and enjoying groups of musicians from far horizons right here in the parks and gardens of Paris. A multitude of lively shows on dance, theater, music... Original cultural events and quite often free from 14th July to 7th August 2016.
Need a snack, want to find a restaurant close to this Paris canal?
Ready to eat before or after your excursion or free show when you're feeling a bit peckish, or simply to calm starving kids ? We have selected several restaurants close to canal de l'Ourcq or near Paris, Bassin de la Villette, Pantin... You can also opt for a picnic on the banks of the canal, the month of August being  the perfect month for relaxing and tanning.
You are in Paris in July? Find out what to do in the French capital in July.