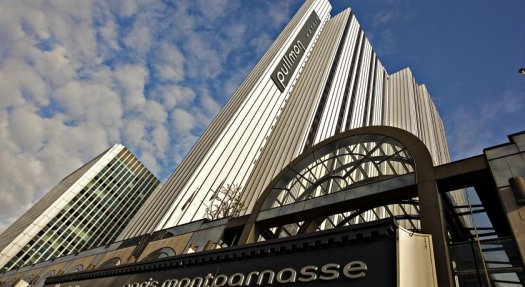 This very large Parisian hotel is located in the 14th arrondissement of the capital, right next to the Paris-Montparnasse train station. The rue de la Gaîté (Bobino, théâtre de la Gaîté-Montparnasse, théâtre Rive Gauche), the Montparnasse cemetery and the Saint-Germain des Prés district are all within walking distance from this comfortable hotel.
From the hotel, it is also easy to get to the Parc de Expositions de la Porte de Versailles - the largest exhibition center in France - and the Stade de France in St Denis, the scene of international sports competitions and major concerts, without changing trains.
The hotel has several restaurants, a fitness room and a cocktail bar with a panoramic view of Paris.
After 4 years of work it will reopen in December 2021 under a new light thanks to the architects B. Clarens and Y. Martin. You can book your room, suite or apartment between the 8th and 32nd floor. You can choose between a walk-in shower or a bathtub.
The Skybar awaits you on the rooftop with a superb view of the Capital.