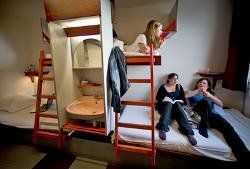 Paris Le D'Artagnan youth hostel is ideally located near Parisian parks and botanical gardens. It is conveniently nestled between museums, tourist highlights and the Parisian metro underground public transport. All the metro lines link you to the RER, the express regional network to reach airports as well as most of the Parisian main stations and several of the iconic museums in Ile de France region.
Visit the famous French Fifa stadium in Saint Denis located just a stone's throw from the hostel. The RER line B connects the hostel directly to both Villepinte and le Bourget exhibition centers.
Located in the heart of Grand Paris, this unique setting is very comfortable and offers famous accommodation that can welcome about 430 people. It has the reputation of value for money in that it is an international hostel to accommodate young people from all over the world. It offers all the facilities for a successful stay in Paris. It features an all-night bar, a 24-hour reception desk, free cyber-space accessible to every paying guest, a relaxation lounge and a multi-purpose hall for activities and games. There is also a laundry, a fast-food service a TV lounge to keep abreast of all up-to-date news. Conference halls are at the disposal of all groups.
Looking for rooms for your staff or to be together during events at both Villepinte and Le Bourget exhibitions centers, or even for the Paris Air Show or "fête de L'Humanité" remember to book in advance for all these events to be the first-come-first-served.
Shared-rooms of 3, 5 or 9 beds provide bed linen and blankets as well as breakfast. Towels are not included.