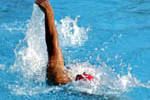 The Leclerc swimming pool in Pantin has closed, in order to carry out the renovation work planned for June 1, 2020. The reopening, after works, is planned for the second half of 2022.
A pool classified as a historical monument
The Leclerc pool is a building listed as a historical monument. The Pantin pool was built in 1937 with a large pool of 33 m in length - a pool that meets competition standards! It is classified as a historical monument in 1997. Its red tile exterior is unmistakable, the interior is a bit old-fashioned but it is an exceptional pool because of its great age! The Maurice Baquet pool is reserved for schools.
Useful Information
Swimming cap is compulsory.
Closed from July 14th to August 15th
Take a look at the other pools open in the region: Gagny municipal pool and the Canyon Aquatic Center in Epinay.