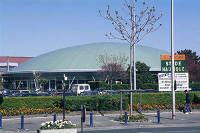 The Drancy nautical stadium is an indoor pool with a dome overhanging it. It is a nice place to spend some time and have fun with the family.
1 about 82 ft pool
2 small pools
1 diving pool
3 diving board (3 ft, 10 ft and 16 ft)
1 outdoor solarium
Bathing caps and swimsuits are mandatory (no shorts or Bermuda shorts).
Opening hours of the Drancy swimming pool
The opening hours change during the "small" school vacations, the summer vacations and all year round outside the vacations.
Opening hours outside the vacations
Monday and Tuesday: 12 to 1:45 pm and 5 to 6:45 pm
Wednesday: 12pm-4:45pm
Thursday and Friday: 12:00-13:45 and 17:00-18:45
Saturday: 12-4:30 pm from September to spring and until 6 pm from spring break to summer
Sunday: 9am-12:30pm
Open during school vacations
Monday to Saturday: 12pm to 4:30pm
Sunday: 9am to 12:30pm
Opening hours during the summer vacations
Monday to Friday : from 2pm to 6pm and from 6:30pm to 7:45pm
Saturday : from 1pm to 6:30pm
Sunday : from 9am to 12:30pm and from 2pm to 5:30pm
More pools located in the region: Auguste Delaune pool in Tremblay-en-France and the Coursaille Nautical Stadium in Aulnay-sous-Bois.