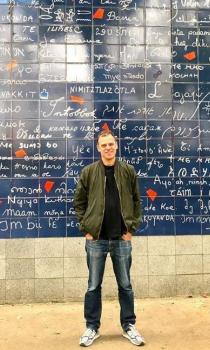 Interview with a passionate person. Guillaume Le Roux loves Paris, its history, its neighborhoods, its good restaurants. He likes to share his good addresses, either during the tours he leads or in the pages of the guide Le Bon Plan Restos.
On the occasion of the second confinement of the year, we wanted to know more about the tours and videoconferences he offers on ExploreParis.com.
Hello Guillaume, you created the websites 716lavie.com and levraiparis.com, how did you become a guide?
I was working in the media when I wanted to create my own content. I felt I had the skills to find differentiated, quality information. And I have always been interested in transmitting "good things", in playing a role of passer-by. So I created 716lavie.com, a site where I could share my discoveries and recommendations of good restaurants with a warm welcome, travel and independent music. At the same time, I started working as a guide, first for a company, then on my own when I created levraiparis.com.
Tell us about your collaboration with ExploreParis.com. What did the platform bring you? And how did you adapt to the health crisis?
The ExploreParis.com team contacted me when I had just created the "Barbès Gourmand" tour (culinary and historical discovery of the Goutte d'Or neighborhood), as part of the Delicious Paris event organized by the Paris City Council to promote Parisian gastronomy.
Our collaboration has continued and we have since become intimate partners if I may say so! It is a pleasure and an honor to work with an institution whose guiding principle is very noble (to promote territories through the richness of their inhabitants and their know-how), and whose team is attached to the values it defends. This creates the conditions for a rich and honest exchange.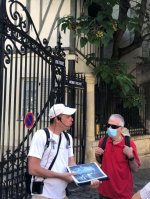 During the first lockdown, I quickly felt that I had to react and I imagined video-conferences. I realized that my colleagues from Fresh Street Art Tour had made good progress on the subject on their side as well, we exchanged ideas and I started. The physical and virtual offers do not cannibalize each other, they really complement each other. In fact, many of the participants in my videoconferences have already taken my guided tours and have told me that they have enjoyed both formats. They learn each time, because you don't look at the same things on the street and on a screen. I'm also a big movie buff, and I enjoy looking for movie and TV clips, photos, maps and diagrams to illustrate my virtual tours.
Do you have a favorite visit or video conference? An anecdote to share? What good addresses do you recommend?
I don't have a favorite tour or videoconference, I love them all. I designed each one with great pleasure, but I have a particular interest in the last ones I created: the Latin Quarter, the 16th arrondissement or Montmartre Secret.
For videoconferences, I am currently offering the New Athens (Pigalle quarter), the Latin Quarter, Montmartre Secret and Barbès Gourmand. I will soon finalize a route from Télégraphe to Buttes Chaumont, another from Butte aux Cailles to the Chinese Quarter and a last one from Trocadero to Michel-Ange - Auteuil. I have a lot of fun looking for the archives and making the virtual walk fun as well as informative, but it takes a lot of time!
I am, on the other hand, delighted to see that the New Athens is more and more in the spotlight. I've been introducing people to this neighborhood for many years and I'm convinced that it is better known by its real name, "La Nouvelle Athènes", rather than by its English nickname of "SoPi" for South Pigalle. After the confinement of spring, the 1st issue of Télérama Sortir was highly anticipated. The cover story was entitled "Mes vacances en Ile-de-France" and the article began with my videoconference on the New Athens. At the same time, the Paris Tourist Office also asked me to write about this area in order to highlight it on their website.
I have a lot of "good addresses" to recommend to you, including all those in Bon Plan Restos, the pocket guide to restaurants in Paris (https://716lavie.com/le-bon-plan-restos-a-paraitre-dici-noel/) that I published in early 2020. To date, none of the restaurants I mention in it have closed, so it's time to get it to prepare your next gourmet outings.
Thank you very much Guillaume!
You like nice restaurants in Paris? Le Bon Plan Restos Paris is made for you! Guillaume Le Roux has concocted for the gourmets eager for street food, addresses of bouis-bouis and small restaurants that do not look expensive and where you can enjoy, a good plan in the literal sense: a map of restaurants in Paris.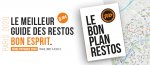 Order Guillaume Le Roux's Bon Plan Restos guide on 716lavie.com (8,90¤ - limited edition of 1000 copies) and follow his guide activity on levraiparis.com.
To go further, discover all our guides and lecturers through our portrait gallery.