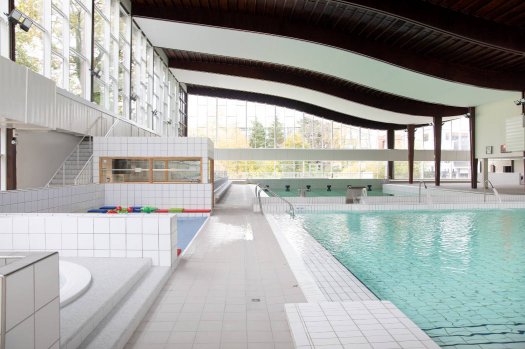 The Raincy swimming pool reopened its doors mid-July 2021 after 3 years of work.
The pool has become an Aquatic Park with a wellness area (hammam, sauna, jacuzzi), a paddling pool for toddlers, 2 pools and a solarium (installed above the lake).
1 small pool: 15m x 10m
1 large pool: 25m x 15m
Bathing caps and swimsuits are mandatory (no shorts or Bermuda shorts). Children under 8 must be accompanied by an adult.
Opening hours during school days
Monday 11h-14h / 16h-19h
Tuesday 12h-14h / 17h-19h
Wednesday 12h-19h
Thursday closed
Friday 17h-21h
Saturday 14h-19h
Sunday 10h-13h 15h-18h
Opening hours during school holidays
pending
Opening hours during summer holidays
Mondays and Wednesdays: from 10:30 am to 12:30 pm and from 2:30 pm to 8 pm
Tuesdays and Thursdays: from 10:30 am to 8 pm without interruption
Fridays from 10:30am to 12:30pm and from 3pm to 9pm
Saturdays from 10am to 7pm without interruption
Sundays from 10am to 1pm and from 2:30pm to 6pm