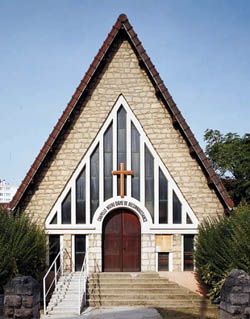 The Church of Notre-Dame de la Reonnaissance, built around 1960, presents a modest but singular architecture. Its facade, very simple, expresses in its triangular shape the concept of spiritual elevation. On the other hand, the interior is decorated with particularly interesting ancient works.
The Virgin of the church of Pierrefitte
A terracotta statue of the Virgin and Child is dated to the 17th century. The drapery of the dress of the Virgin of the church of Pierrefitte is organized in the Greek manner where the drapery of the garment had to be in harmony with the physical or moral state of the character. Here, the dignity of the hieratic figure of the mother as well as the child is found in the simplicity, even austerity, of the design of the dress. The statue is currently covered with a blue and white paint wash executed in the 19th century.
An Arts Deco liturgical furniture
Two of the objects that make up the liturgical furniture in this building come from a pavilion at the 1925 World's Fair. The crucifix and the altar are both representative of the Arts Deco style specific to this exhibition.
After the Art Nouveau of the 1900s and its proliferation of flowers and fruits, Art Deco takes the opposite direction with an inclination for simple and pure forms. The research in this field was concretized in 1925 in the important International Exhibition of Decorative Arts which revealed it to the general public. The work on the wooden crucifixion of Notre-Dame-de-la-Reconnaissance is executed according to the principles of sobriety of this decorative movement. As for the altar, it presents the great characteristics of Art Deco with straight lines and limited decoration presented in a frame.
The ornamentation of the altar of Notre-Dame-de-la-Reconnaissance is based on the symbolism of the Eucharist: bunches of grapes symbolizing the wine transformed into the blood of Christ and ears of wheat for the bread, the body of Christ.
Related : what to see in Pierrefitte near Saint-Denis ?