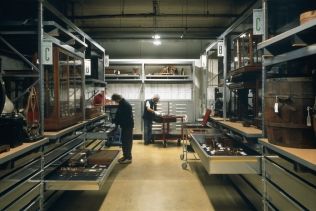 The National Conservatory of arts et métiers, in addition to its missions on vocational training and education, features one of the most important European collections of objects on the sciences and techniques. A testament to technical innovation of the seventeenth century until today, It makes up the backbone of the Musée des arts et metiers, rue Réaumur, where one can admire some 4,000 objects split into seven sectors: Scientific Instruments, Materials, Construction, Communication, Energy, Mechanics and Transport.
The reserve collections of the Musée des arts et métiers enclose nine-tenths of the fabulous collection of the museum  located rue Réaumur Paris. The collection (80, 000 objects and 15, 000 drawings) is conserved in the reserve collections located in Saint-Denis. Built in 1994, the building is specialized in the conservation of musicological collections: with its specific ventilation, constant atmospheric humidity, this intelligent architecture efficiently conserves an  inestimable heritage.
Visit the Reserve collections at the Musée des Arts et Métiers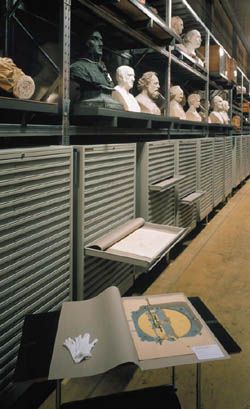 Visit the Reserve collections of the Musée des Arts et Métiers and discover all the treasures kept here. You will become an expert on the conditions of conservation, restoration and the inventory of scientific heritage!
Registration on line (french guided tour)
Come and visit the reserve collections, it will reveal all its treasures to you  accumulated since the seventeenth century until today,  an architectural and  musicological innovation  at the service of technical heritage : inventories, registration, cataloguing, consultation, restoration, maintenance, packaging, photographic takes, preparation of temporary exhibitions, loan of objects… a Living memory, a  genuine laboratory of history, prerequisites for the organisation of exhibitions, it is within the walls of the reserve collections that the Museum draws its sources from and where all the work applied to the collection is carried out.