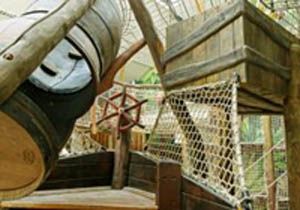 L'île de Robinson is a play area for children. It is covered and situated near Paris at Montreuil-sous-Bois in the district Croix de Chavaux. This family leisure park proposes different activities.
Children from four to twelve have access to adapted activities and there is a totally secured game area reserved for children under four.
The park has two play areas with two themes. Through the reconstruction of the city of York or Robinson Crusoë island, children from 4 to 12 years old can explore the world of adventure and discovery. Hanging bridges, cannon balls, a mysterious town and secret passages are just some of the elements which make this site an ideal place for children to have fun, travel or to be a school teacher, a doctor, a metal worker and other roles. The site is also equipped with many little play rooms.
Children under four can benefit from this special atmosphere in Robinson Island with a secured equipped space. Accompanying parents can go to the cafeteria or to the space for relaxation, equipped with WiFi, while their children experience great adventures.
L'île de Robinson can be reserved for birthdays and other events.
Opening hours - Ile Robinson at Montreuil-sous-Bois
Wednesdays from 10 am to 6 pm
Saturdays, Sundays from 10 am to 7 pm
School holidays and days-off from 10 am to 6 pm
Price
children 4-12: 15 euros. From the third child: 12 euros
Accompanying adults: 5 euros
children under 4: 7.5 euros
Access
L'île de Robinson, parc de loisirs familial à Montreuil
50 Rue Du Sergent Bobillot
93100 Montreuil 
Métro : Line 9, Croix de Chavaux
RER : A, Vincennes
Bus : 102, 115, 122, 127
www.ilederobinson.com
phone: +33 (1) 48 51 56 90