Those who don't speak French can now enjoy a play or a movie in Paris. Discover theatres that have plays in English and Cinemas with French movies subtitled in English. Tourists and expats will now  be able to experience true Parisian nightlife!
Where to see a play in Paris ?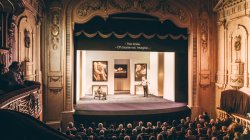 Going to see a Parisian theater play is a dream that we all share. You can become a real Parisian for one evening (at least) by going to a typical theater in which you'll discover the whole artsy community of Paris. Hanging out in front of the theater while waiting for the show to start, getting seated by young students, seeing the first part… All that is part of the experiment!
And don't worry about the language barrier, loads of shows are in (good) English. Some shows are subtitled in English and others are in original version subtitled in French like in the theaters that are part of Scènes Nationales: Théâtre Gérard Philipe or MC93 have an international program.
From classic to comedy, circus or musical, you'll find any type of show you want in Paris and around. Cyrano de Bergerac, Chicago the musical, How to become a Parisian in one hour…There are enough shows to please everyone.
Take a look here if you are looking for more exciting events and shows near Paris center.
Lost in Frenchlation, to discover French movies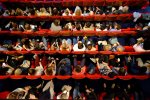 French cinema has so much to offer that the company Lost in Frenchlation decided to promote it. Thanks to them, the Parisian international community gets to learn about French culture and meet each other.
They screen French films with English subtitles, with drinks before or after the film, at independent cinemas in Paris. That's what they do, but how did this all start?
Lost in Frenchlation was born when the co-founders Matt (who is Australian) and Manon (who is French) came to realise that the non-French speaking community in Paris (e.g. expatriates, international students, tourists, etc.) were excluded from enjoying an integral part of French culture – their cinema. It was impossible for the international community to enjoy the amazing French films that native Parisians were talking about because there wasn't a single cinema in Paris that was showing them with English subtitles! This meant that people were still watching American films in Parisian cinemas and missing out on a golden opportunity to become even more immersed in Parisian culture by enjoying one of France's greatest arts – cinema.
So that's why Lost in Frenchlation exists: to bring French art and culture to the international community through films.
Check out their program on their Facebook page or their website!