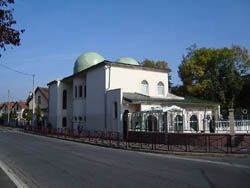 The mosque in Bondy is the first real mosque built in Seine-Saint-Denis, the department in France with the largest Muslim population. The land, owned by the Islamic Association "Islam pour tous", was not given by the town hall, but the latter did not exert its preemption rights and even agreed to twist an infringement concerning the use of the land and the building permit.
First official Mosque allowed to launch other projects in the department
Before the construction of this Muslim religious building, places for Islamic worship were installed in the ground floor of buildings, in pavilions or abandoned factories. Construction of this Mosque, the foundation stone was laid in 2001, was entrusted to the architect Abderrahmane Bousmaha. The building occupies five hundred and seventy meters of a former automobile garage and can accommodate over a thousand people. According to the designer, "It is a French mosque, which means that it takes into account the urban constraints associated with a non-Muslin environment." In order to better integrate into the urban landscape of the town, the mosque has no minaret but two emerald tiled domes. The Mihrab, a sort of niche turned towards Mecca, is very present.
The building style is composite and typically Moroccan. The whole set is designed in bright colors with a dominant shade of green. In the interior of the building, the floor is covered with a silky carpet design with oriental motifs. The decorations are overloaded with stucco, tiles, imitation marble and inlaid wood. On the walls, there is a calligraphy representing the ninety-nine names of Allah. Bright domes include two massive chandeliers, donations from Egyptian worshippers. In the small courtyard surrounding the building, large terracotta pots containing yuccas-tree bring the essential Mediterranean touch. The tradition does not turn its back on modernity for there is an electronic luminous clock displaying the time of the five daily prayers. The mosque in Bondy was inaugurated in March 2005 in the presence of the prefect, the president of Seine-Saint-Denis council, the MEP Elizabeth Guigou, as well as a bishopric representative and the president of the local Jewish community. This edifice is a reference in Seine-Saint-Denis, it was completely financed by worshippers and permitted other projects to begin in Bobigny, Tremblay-en-France, Blanc-Mesnil, Montreuil and Bagnolet.