The terminal airport at Le Bourget designed by Georges Labro in 1937 has a control tower in the center of the building. It has a glass dome with a diameter of 6 meters, a height of 17 meters and 4 floors.
The control tower, nerve center of an airport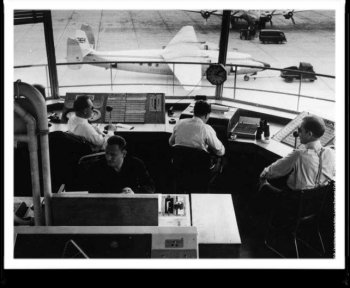 In the aftermath of the Second World War, the tower became obsolete and new comfort needs arose: the use for double glazing windows with good acoustics and thermic performance, air-conditioning… The control tower is the nerve center of an airport: it directs planes during landing and take-off and their manoeuvres on the airfield. It is essential that the workers in charge of the operations can accomplish their missions in the best conditions. Furthermore, the constant growth of air traffic since 1946, definitely reinforced the need to build a new facility.
An expansion project emerged in 1953 and the control tower of Le Bourget airport became the most modern in Europe. Five employees were responsible for its operation. In 1993, Aéroports de Paris brought into service a new tower to the north of the airport, twice as high as than the previous one (30 meters high). Indeed, its limited size and the lack of 360° visibility gradually made the installation insufficient for traffic management.
One of the few control towers in the world that can be visited
Today, two floors are opened to visitors. Going upstairs into the tower, we dive into the beginnings of commercial aviation and we discover the process of take-off thanks to a digital device. From the look-out, on the 4th floor, a spectacular panoramic view is offered to visitors: an amazing view on one of the runways of the business airport of Paris Le Bourget, then on the horizon, the Sacré-C½ur and if the weather is good, the Eiffel Tower! Take advantage of your visit of the Air and Space Museum to climb up into the control tower.