This cycle loop of 27 km will take you to Canal de l'Ourcq near CDG international airport passing via route de Claye and Mitry-Mory.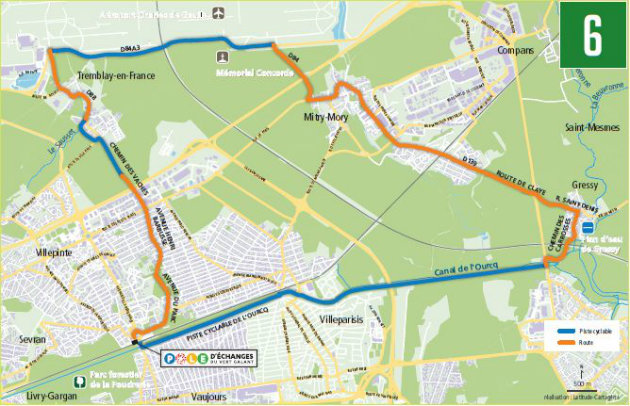 Distance : 27 km
Average time : 1h50
Level : Average
Types of routes : Cycle track and route
Points of interest: Charles de Gaulle airport, Concorde memorial.
From the station Gare du Vert Galant, go under the raiulway tracks on to the footbridge over canal de l'Ourcq. You will reach the bike route in direction of Villeparisis. 
Follow the cycle route along Canal de l'Ourcq for 7 km. The bike path changes bank, first at Villeparisis. After changing banks for a second time, continue the cycle path for 100 metres, pass under the road then turn right to get to the narow dirt track and cycle for 200 metres until the pavillon restaurant. Turn right onto Chemin de la Rosée (in front of the restaurant) in direction of Gressy.
At the stop turn left onto Chemin des Carrosses1. At the end of the road, turn right onto rue St Denis and continue on the D139 until Mitry and then Mitry Bourg ( 5 km). Pass by Place de l'église (beware of cobblestones) and follow the direction La Villette aux Aulnes (via rue Maurice Thorez and then rue Camille Lemoine). At the stop, turn right onto the D9 and at the next stop turn right again in direction of Charles de Gaulle – Le Mesnil Amelot. After one kilometre, after cycling on the N2, turn left at the intersection and join the bike path on the opposite side.
You will cycle alongside the airport runways for 4 km. Admire the planes taking off at the end of the runway and notice the Concorde Memorial.
At the end of the bike path, go round the round about and follow the direction Tremblay en France. At the stop sign, turn left and continue on the D88 in direction of Villepinte – Sevran for 1 km. At the third traffic lights, turn right onto Chemin de la Pissotte and turn left immediately to join the cycle path (at the sign height limitation 1.9 metres). Be careful, the track ends briefly to cross the route de Villepinte but you can pick it up again further up on the D88. The cycle trail passes over the Ile de France la Francilienne route. At the end of the track, cross the route des Petits Ponts and follow in direction of Vert Galant – Bois St Denis until the train station.
1. If you want to go around Gressy lake (about 1 km), turn right ! Take a look at our cycling route circuit to Gressy.