This cycle route dedicated to expert cyclists starts from Paris region Vert Galant Villepinte train station. It makes a loop via Vaujours, Coubron, Courtry, Bondy regional forest, Villevaudé, Villeparisis and the Ourcq canal.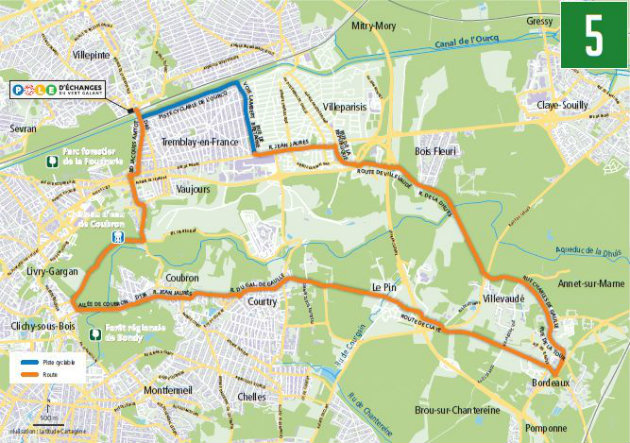 Distance : 25 km
Average time : 2h
Level : Difficult
Types of routes : specific cycle path , cycle tracks by road, roads
Points of interest : a trail for experts with two long steep climbs, Coubron water tower, Bondy regional forest.
At Gare du Vert Galant, go in direction of Vaujours on the D40 (Avenue du Général de Gaulle then Boulevard J. Amyot). At the end of Boulevard Jean Amyot turn right in direction of Paris then first left in direction of Coubron (D44A). You will cycle along the first long trail (700 metres). Follow the direction Coubron-Montfermeil until you reach the top.
At the top, turn right at the roundabout on to the D129. Take a look at the unusual water tower shaped like a soccer ball on your left. After 2 km, at the crossroads turn left at the crossroads (D129). At the end of the street, turn left again on to the D136 in direction of Coubron-Courtry.
Cycle alongside Bondy regional forest and continue straight ahead for 9 km. You will cross through Courtry, Le Pin before reaching the small town of Bordeaux ! After the road sign 150 m further on, turn left (just before the road bridge !) in direction of Montjay-La-Tour.
You will then start the second most important part of this trail! cycle up hill for 1 km. At the roundabout turn left in direction of Villevaudé and climb up again for 1,5 km until the next roundabout. Here, go straight on in direction of Villeparisis - Bois Fleuri (D105). Continue straight ahead for 3,5km until Bois Fleuri then Villeparisis.
At Villeparisis, after Truffaut store, continue straight on until the roundabout to pass under the bridge and follow the direction of Centre Culturel J. Prévert (via la rue de Villevaudé and rue de la République). At the traffic lights, turn left in direction of Le Parisis and continue straight ahead on to rue Jean Jaurès for about 1,5 km. Just before rue de Bretagne, turn right (opposite Placoplâtre) to reach the bicycle track (Lambert way) until the bike route on Ourcq canal.
Follow the path along the Canal (on the left) until Vert Galant train station.
Less experimented cyclists can do the other bicycle circuit of 22 km until Bondy forest or other cycling routes.