Cycling Itinerary starting Villepinte Vert Galant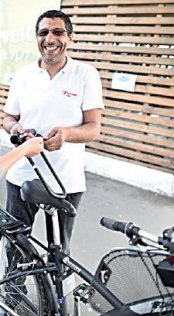 The exchange pole of Vert Galant located at Villepinte (Paris region), in association with CSCV and Paris Terre d'Envol, offers a series of 10 cycling itinerary routes, all of them start at Gare du Vert Galant train station. For one hour or a day, go and discover the rich diversity and particularities of the territory of Paris region on a bike!
10 bicycle rides from Gare du Vert Galant
Forest Park de la Poudrerie, 5-7 km, 30-45 minutes, very easy
Water pond at Gressy, 19 km, 1h30, very easy for beginners
Cycle on the traces of Charles Péguy, 48 km, 3h30, average semi expert
Montjay-la-tour cycle path, 25 km, 2 hours for expert
Route to the airport, Memorial Concorde, 27 km, 1h50, average level
Destination to Parc de la Villette, 36 km, 3h, easy level
Paris region path across 3 towns, 19 km, 1h30, very easy for beginners
Circuit Carole and Parc du Sausset, 19 km, 1h30, very easy for beginners
Parc Lefebvre and Bondy forest, 22 km, 1h45, average level
Bicycle rentals
You can rent a bicycle at the exchange Pôle of Vert Galant located at Place de la gare 93420 Villepinte. Information by phone - 01 48 65 79 14.
Terms of bike-rentals
Presentation of your identity card and proof of residence dated less than three months
Security cheque deposit 100¤
Opening hours
From Monday to Friday : 6:30 a.m to 9:30 p.m.
Saturday : 8 a.m to 8 p.m.
Sunday : 10:30 a.m to 6:30 p.m.
Rental rates
1 hour : 1 euro
1/2 day: 3 euros
1 day : 5 euros
2 days : 8 euros
1 week : 10 euros
1 month: 20 euros
3 months : 45 euros
12 months: 130 euros
50% discount on any additional bike after 4 bicycle rentals
Advice before starting
Do not forget snacks and drinks. For a bicycle ride, it is important to gain strength !
A cycling helmet is highly recommended
The itineraries include sections on the road. You do not have priorities over motor vehicules. For your security and for others too, ride in a single file, stay on the right side of the road and respect the security distance and obey all traffic laws.