This small bike itinerary 5 kilometers long runs through the forest park - Parc forestier de la Poudrerie Sevran - Livry and is an easy level. It consists of bike tracks and paved alleys and is suitable for family bicycle outings.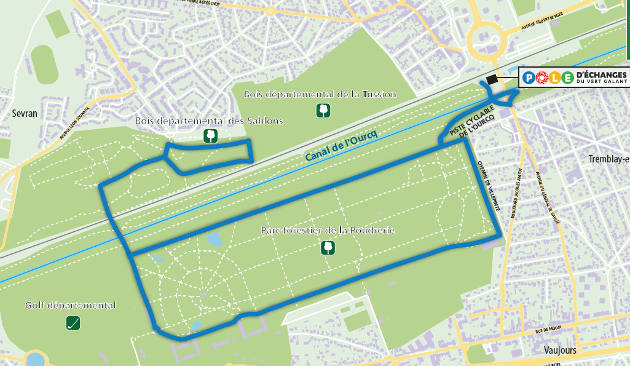 Distance : 5 kilometres to get around the park, 7 kilometres tour of park + bois des sablons
Average time : 30 to 45 minutes
Classification level : Easy
Type of roads : Bicycle Path and asphalted alleys
Points of interests : Educational farm, beehives, children's playground,, picnic area, sports tracks, Bi-Cross trails, Golf, petanque pitch.
From Vert Galant station (RER B), take the path under the tracks and cycle to the overpass above the canal. Take the Ourcq bicycle path in direction of the town of Sevran.
Go into the forest park Porte du Vert Galant and follow the bicycle track until Porte de Sevran (1,5 km).
To go to Bois des sablons take the exit on the right, cross the canal and go through the tunnel under the railway tracks. Continue to the small fountain then turn right in direction of "Mur d'escalade – Halle couverte". You can then follow the wide alley lined with logs and cycle around Bois des Sablons.
To return to Parc de la Poudrerie, go to Porte de Sevran Village to find the large alley in direction of the small fountain. Cross the tunnel then the bridge over the canal, go into the Parc de la Poudrerie and continue in direction of "Musée Poney Club". At the roundabout take the second turn on the right and then turn left at the end of the alley then right in direction of the "Sports trail". When you reach the sports trail, turn right then left. Finally, at the end of the alley, turn left and then first right and exit at the Park by Porte du Vert Galant.
To go back to Vert Galant station take the footbridge over Canal de l'Ourcq and the path under the railway tracks.
Discover also another easy itinerary which is a bit longer, bike ride 12 km in Parc du Sausset.