This 19 kilometer cycle itinerary classified as easy passes near the Carole moto race track. It also passes through the Sausset and Poudrerie parks and along Canal de l'Ourcq for several kilometers.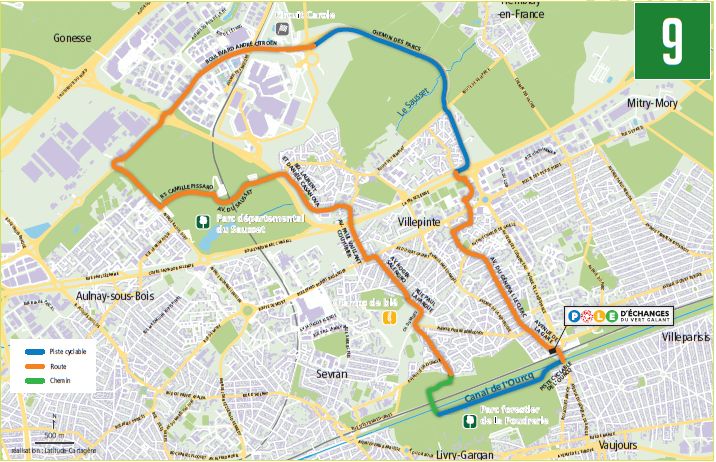 Distance : 19 kilometers
Averange time : 1h30
Classification level : Easy
Types of roads : Bicycle tracks, routes and path
Points of interest : Circuit Carole, Sausset Park and Poudrerie Park.
From the Vert Galant station, follow avenue de la Gare and continue straight on for 2 kilometers in direction of Vieux Pays avenue Charlemagne. After the school Charlemagne, turn right on to Rue Max Pol Fouchet, then at the roundabout turn left (avenue Jean-Paul Sartre), cross Boulevard Robert Ballanger and right at the roundabout (to Buffalo Grill restaurant). 100 metres after the roundabout, take the bike path on the left of the road. Cross the Francilienne ring road via the footbridge and continue on the bike path that runs along the D40 in direction of Circuit Carole for over 3 kilometers. Leave the bike path at the entrance of the exhibition center (Parc des expositions de Villepinte), after the roundabout, follow direction Z.A. Paris Nord 2 – Circuit Carole (the entrance of the circuit is 100m on the right hand side.)
To go back to your departure point : continue on the D40 in direction of Aulnay-sous-Bois. At the third roundabout, turn left into the D401 in direction of Sevran. At the traffic lights, turn left to cross parc du Sausset (route Camille Pissarro D402, direction Parc départemental Sausset – RER Villepinte). At the station car park roundabout turn right into avenue du Sausset. A brief halt is possible at the next roundabout to be able to enjoy the park (children's play area in proximity…).
Go back on the bike path to avenue du Sausset, then turn right on to Boulevard Laurent and Danielle Casanova in direction Vieux Pays. At the end of the path, turn right into avenue Paul Vaillant Couturier, in direction of Clos Monceleux. After 1 kilometer, turn left at the traffic lights on to Boulevard Robert Ballanger then turn right (after the pharmacy) avenue Roger Salengro direction Clos Monceleux. Continue straight ahead, on avenue Roger Salengro then avenue Paul Lafarge, cycle alongside the field and turn right on to Chemin du Milieu (a tree-lined road). At the stop sign, turn left and turn right immediately avenue du Général de Gaulle, direction Sablon. At the very end, pass by the small circular parking space and go into Parc de la poudrerie through Porte de Sevran Village. Follow the path to the right till the small fountain. Turn left, go under the railway tunnel , go over the canal, go in to the park again at Porte de Sevran and turn left onto the bike path to get back to Vert Galant station.
Discover the bike path via the parks of Seine Saint Denis