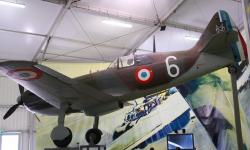 This plane can be seen in the World War II hall in the Paris Le Bourget Air and Space Museum.
Fighter
Origin: France
1st flight: 2nd october 1938
Powered by: 1 Hispano-Suiza engine
920 HP engine
Maximum speed: 540 km/h
Operational ceiling: 11,200 m
Range: 890 km
Armament: 1 HS-404 20 mm canon
4 7.5 mm machine guns
Designed in 1938, the D.520 was delivered to the French air force from 1939. A major fighter in the Battle of France, it is credited with 108 confirmled, and 39 probable, victories. Its production continued under the occupation. Following the liberation of the south-west of France (August 1944), some D.520s equipped the first FFI fighter group (known as the "Doret group"), which took part in the harassment of the Bordeaux region and the Royan pocket. The aircraft continued service in the French air force until 1953.
D.520 no 862 decorated in the colours of no 277 which belonged to the GC III/6 and was flown by flown by Pierre Le Gloan during the Battle of France – France.