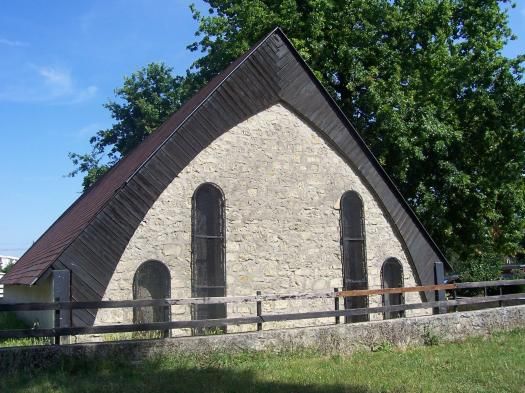 Father Joseph Wresinski's Chapel was selected for the French project "Heritage Lotto" in 2019.
In 1956, Father Joseph Wresinski came to live among the 250 families reunited by poverty in a camp set up in Noisy-le-Grand after the winter of 1954. Immediately, he took innovative initiatives to refuse the misery he had suffered when living in extreme poverty as a child. He was convinced that this refusal was shared, first and foremost by those who suffered from poverty, and also by all those who had just experienced it.
Labelled "Heritage of the 20th century", the chapel was built in 1957 by Father Wresinski and the inhabitants from the camp for the homeless (non-believers, and believers: Muslims, Jews, Hindus, Christians).
Its architecture recalls the shape of the camp's "igloos", fragile shelters set up by Abbé Pierre to shelter homeless families after the winter of 1954. Father Wresinski wanted it to be built in the same material as the igloos; he also asked Jean Bazaine, a painter, to create the stained glass windows. The only remnant of the camp, it recalls the meeting of Father Wresinski and the families that had been living there in extreme poverty. This led to the creation of the International Movement ATD Fourth World, now present in 25 countries. In 1969, when the camp was demolished, the inhabitants participated in its "stone by stone" reconstruction situated at the current location (corner of Jules-Ferry and Hauts-Roseaux streets).
Its stained glass windows by the artist Jean Bazaine - "a piece of beauty" in the middle of the mud and greyness of the camp - testify to the dignity of every man, his aspiration to beauty and spirituality.