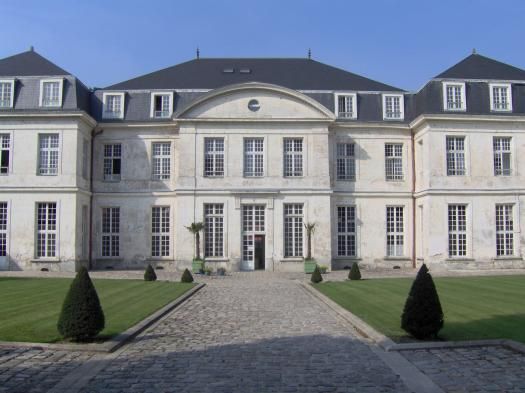 The famous engraver Claude Chastillon (1559-1616) who produced for Henri IV many topographical views, represented in his book: La Topographie française, published in about 1641, a drawing of the first castle of Vaujours. From this seigniorial edifice, remains just a vast tithe barn, today, the most ancient of the Vaujours building.
The neo-classical castle is today the French Lycée Fénelon
Shortly after 1770s, the lord of Vaujours, the baron Jean-Philippe of Maistre, ordered the demolition of the castle engraved by Claude Chastillon. In its location, he ordered the construction of a modern dwelling place, just as those designed in the 18th century. Constructed in a neoclassical style, the central core with an arched pediment, courtyard, and the Attica, garden, was flanked by two pavilions. There are only vestiges of the large park remaining where the castle was situated. The domain was enclosed with an elegant gate that can be contrasted with the one surrounding Mathieu castle. Built in the following century and the only vestige of this dwelling place which remains at rue de Coubron, the overabundance of the decor reflects the predominant taste of the Second Empire. On the contrary, the one designed by the Baron of Maistre responds to the sobriety of the 18th century.
The interior decoration of the castle of Vaujours, Louis XVI style, is the original one. On the ground floor, a vestibule doted with Toscan columns served two halls, ornate with bas-reliefs celebrating the bacchanalia and the four seasons, while a monumental staircase provided access upstairs. According to tradition, whitewash covered the walls to dissimulate the frescoes on the theme that can be qualified as "light".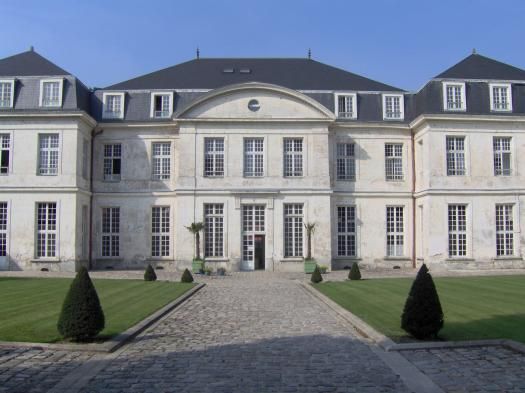 Maistre's family conserved this dwelling house until 1839, date when the French Lycée Fénelon took possession of it. Perfectly maintained, it presents a whole exemplary set of architecture from the eighteenth century, despite construction work carried out in the 19th century and extension work for the school.
Enjoy heritage days at Vaujours to discover the town sites.