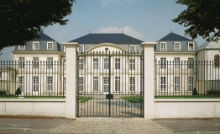 No concrete or high-rised buildings, but a canal and a forest : the pride of Vaujours and its habitants is to have kept all the charm of a village and the quality of life it entails.
The origin of the name comes from the Latin word « vallis » and « jocosa » meaning valley and joy. There are traces of the city in medieval texts dating from the twelfth to the fourteenth century. Buy milk at the farm, go rock climbing, walk in the woods, cycle along the canal, cross through wheat fields : Vaujours is a promise of a rare quality of life for inhabitants and visitors.
A  traditional village near Paris
Half an hour from Paris, this small town has everything of a traditional village in Ile de France: a historical center around its church and its magnificent eighteenth century castle (today a private school), its residential area, a shopping district spread out along the former national 3 road (rue de Meaux). The village appearance does not exclude a veritable economic dynamism with dozens of companies including some leading industries.
 
Vaujours is located close to the Parisian express motorway network that situates it fifteen minutes from Roissy international airport. An INSEE survey recently ranked Vaujours as the second best equipped city in Ile de France. It has two uncovered stadiums, an ultra-modern sports complex, tennis courts, a riding center, a gymnasium, a music school, a library with around 27,000 volumes, a nursery and a very pleasant Association centre - « Maison du temps libre ».
Concrete does not have its place in Vaujours, where the environment has always been a major concern. In part of its territory, the forest park of Sevran offers visitors an ideal place to relax. The charm of the Ourcq canal goes without saying and the countryside nearby in Seine et Marne offers plenty of walking trails. You can also discover the agricultural area on the hills of Aulnoye and in the area of Vaujours.
Related : easy cycling near Paris downtown
What to see in Vaujours
Do not miss the Placoplatre factory visit, one of the worlds largest gymsum plants located near the gymsum quarries, as well as company visits of french savoir-faire in Ile de France close to Vaujours. You can also find hotels in the proximity of this small town. For a bigger range of choice, check out hotels near cdg airport Paris.