The backstage of La Cité du Cinéma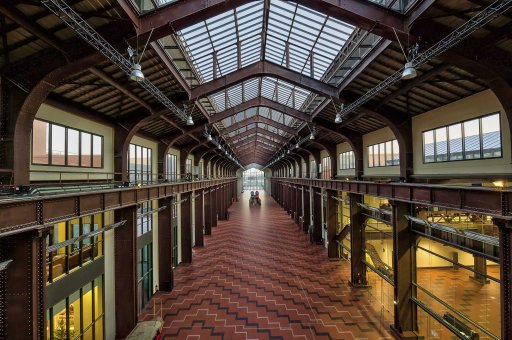 Simply relax and create unforgettable moments, visit La Cité du Cinéma, a unique shooting film set infrastructure in France. Take a tour and follow the guide through this top movie cinema city location located in Seine-Saint-Denis.
The brainchild of the acclaimed French filmmaker and director Luc Besson
Cité du Cinema is the brainchild of the film director and producer Luc Besson, who is one of France's most successful and famous film directors. It took him 12 long years to work and make his dream come true; to give birth to a French film city complex where technological support services and creative requirements can be adapted to the script writer, director, actor, set designer, accredited partners or participants.  It aims to focus more and more on the different jobs within the film industry to interact effectively with colleagues, clients and external contacts from post-production to film distribution on the same location.
The recent film studio complex
This 16 acres high-flyer project known as Hollywood-sur-Seine is the largest new film multiplex masterminded by Luc Besson himself in the outskirts of Paris. This mega film hub is a pride of place in the entertainment industry. It will surely seduce you into a cinema mood to pay tribute to the film industry and retrace the steps of filmmakers and stars. Follow the guide and breathe in the spirit of this unique scenery setting to enjoy and discover the world of all film professions. It offers the infrastructure and facilities that a film-maker needs from scenarist, analyst, photographer and painter… the ultimate trophy for every discerning producer.
It took 12 long years for Luc Besson, one of France's most successful French film director (The Fifth Element, Nikita, Léon: The Professional, The Big Blue...) and producer (Taxi) to work and make his dream come true: to give birth to the first French cinema city called Cité de Cinema. It was officially inaugurated on September 21st 2012.
Since the official launch a year ago, the Cité du Cinéma has hosted a few film shoots in Seine-Saint-Denis:
2012 – Taken 2 by Oliver Megaton
2013 – Malavita-The Family by Luc Besson with Robert de Niro, Michelle Pfeiffer and Tommy Lee Jones
2013 – Vingt-ans d'écart by David Moreau with Virginie Effira
2013 – The Smurfs 2 by the American Raja Gosnell...
2014 – Le jeu de la Verité by François Desagnat
2014 – Mea Culpa by Fred cavayé
2014 – 3 Days to kill by McG
2014 –  Aimer, boire et chanter by Alain Renais,
2014  – Lucy by Luc Besson
2014 – The Hundred-Foot Journey by Lasse Hallström
2014 – Une nouvelle amie by François Ozon
2015 - Taken 3 by Olivier Megaton
2016 - Jackie by Pablo Larrin
Old thermal station, French Art Deco style and then... Cité du Cinema 
On the location of the Cité du Cinema, there was the old hydroelectric thermal station. The main action of that old thermal power station was to supply and irrigate all the hydraulic tractions of the Parisian underground metro system. It is converted now into a film shooting location, a particular atypical distinctive building from the era of 1930's French Art Deco style. During its heyday, Art Deco style represented luxury, glamour, exuberance and faith in social and technological progress. It is classified as one of French industrial heritage sites which is now an important landmark in a film shooting location.
Thank you for your interest in our website for amazing  "off-the-beaten-track" visits. We promise to do our best to make your visit unforgettable, should you finally chose to be with us. Remember that the visit will not allow you to be in the studios during the shooting of a film.
More information
Guided visits: 1h45 - ¤14,90/adult - ¤9,90/child (- 16 years old)
Specific subscription conditions: Name and forename of each participant
Age policies: minimum 7 years old. Children must be accompanied by an adult.
The Cité du Cinema is closed at the moment!!! But you can check the Cine-Balades to visit the Parisian area through the lens of the greatest French movie-makers.
How to get there?
Subway line 13: Carrefour Pleyel Station