Visit the Air and Space Museum! The museum is free for children under 26 years of age. Come and admire the helicopters, vehicles and engines on the base where several rotors are on show. These aircraft and flying machines are exhibited at the Air and Space museum in the Rotary wing aircraft hall.
Development of the rotary-wing-aircraft continued in the twentieth century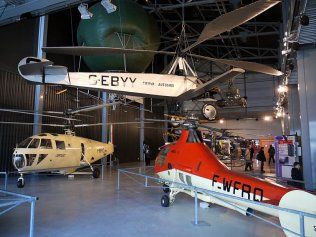 The idea of a vehicle that could lift itself vertically from the ground and hover motionless in the air was probably born at the same time that man first dreamed of flying. Thanks to the revolution in computer-design and manufacturing, the helicopter today is safe, versatile and a reliable aircraft that plays a unique role in modern aviation provided by no other flying machine.
The debut of aviation began in the early twentieth century and the 14/18 war is related through the entire aircraft and air-objects in the rotary wing aircraft hall. It is said and written that the history of helicopters was the occasion for tremendous progress in the use of fighter aircraft.  It was not until the Second World War and later, the Vietnam war  in the Second half of the twentieth century, that we could truly witness the real development of rotary-wing aircraft.
The history of these vertical flights and flying objects are related to visitors with the exhibition of several autogyro also known as gyroplanes and single-rotor-helicopters in the lobby of the rotary-wing aircraft in Le Bourget Air and Space museum. Take a look at how helicopters were used through the twentieth century up to the more modern helicopters of today, used for saving lives.
Gyroplane, autogyro or rotoplane are types of rotorcraft which use an un-powered rotor in autorotation to develop lift and engine-powered propellers similar to fixed-wing aircraft.
FYI
On March 12, 1955 Jean Boulet and Henri Petit made the first flight of the first mass-produced turbine helicopter: the SE-3130 Alouette II, equipped with a Turbomeca Artouste II. The prototype is exhibited in the Rotating Wings Hall of the Air and Space Museum at Le Bourget.
On September 18, 1928, Juan de la Cierva successfully crossed the English Channel in his C.8L-II gyroplane, during a 66-minute flight from Croydon (London) to Le Bourget airport. This was the 1st international flight by a rotary-wing machine.