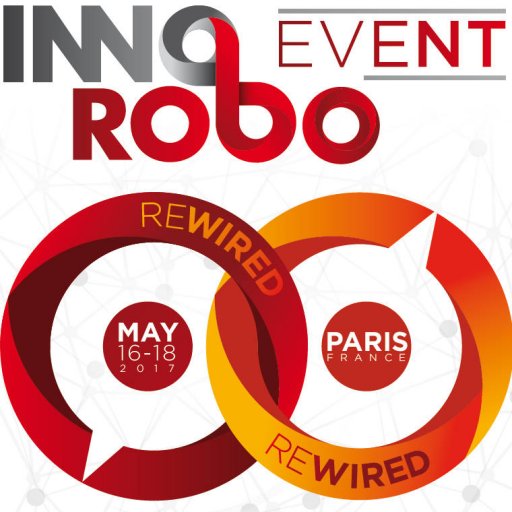 1 March 2018
"Catherine Simon, CEO and founder of the company that organizes the Innorobo event , has announced the cancellation of the 2018 edition, originally scheduled for 15 to 17 May 2018 at Porte de Versailles in Paris.
We will be focusing our resources on new ways of delivering on our promise to provide information, connect people and help innovative technologies go to market."
2017 INNOROBO makes a new start in Paris. This is the first time that a fair on Robotics and ground-breaking innovation will be held in Porte de Versailles - Paris Expo. Rendezvous for this 3 days exhibition dedicated to the presentation of the Art of world robotics in several exhibition halls, conferences with renowned specialists, workshops and demonstrations areas.
The exhibition will expose robotic technologies over a large variety of business markets and sectors on the following themes :
Smart Cities
Technologies and prospective
Medical Robotics and health
Industries 4.0
Smart Homes
Field Robotics
From 2017, the notion of hosting a turning event in Europe desired by Innoecho, the organizing company of Innorobo, gives a greater dimension to it – Innorobo, the most important European event in world robotics. It answers to the needs of visitors and local specificities that matter in the world of robotics.
Inside 3D Printing
Inside 3D Printing is the leading professional event around 3D printing and addictive manufacturing. It will be held at the same time as Innorobo at the Docks de Paris. Come and meet the professionals, the innovations, participate in conferences in the field of 3 D printing which is becoming ever more important.
Hotel at the Docks de Paris
Consult our list of hotels located Northeastern or in the heart of Paris. Accessible by transportation: book a hotel room near the subway line 12, book a room in Paris near Gare du Nord station or rent a room near Chatelêt-les-Halles neighborhood. Check for hotels near the Roissy Charles-de-Gaulle aiport.
It is possible to pick up your cat at a car rental at Paris Nord station.