Discover Paris with guided tours through iconic shooting places of your favorite movies.
Movie tours in Paris with "Ciné-balade"
Juliette Dubois proposes many cinema strolls:
Cinema walk in Montmartre, discover this Parisian district through its cinematographic history
Walk around cinema from Gare du Nord to Canal Saint-Martin
Midnight in Paris tour, walk on the steps of Woody Allen
Cinema walking tour in Montreuil.
Who is Juliette Dubois?
What is your background?
I studied History and after that I specialised in the History of Cinema at the Paris I – Sorbonne University. A three-year experience in cinematographic production also allowed me to learn more about all the functions of film shooting and preparation.
Why cinema? How did these cinema walking tours come about?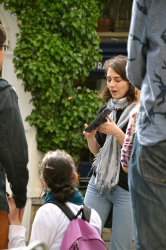 Films generate our dreams, but they also help to learn about the  history of an area and its inhabitants. Cinema allows us to make a bridge between different arts and techniques. The idea of Ciné-balades was born from the desire to offer a new way to discover the town by using all the resources that cinema has to offer.
I started this project about 6 years ago.  It had never been done before and it allowed me to mix my two passions: history and cinema. I create tours for movie lovers or for amateurs who simply want to discover places in a more unusual way.
Mixing mainstream movies and real discoveries, old movies and latest film shootings, I do walks in Paris and the suburbs accompanied by tourists and Paris locals with whom I share my enthusiasm and my favourite film clips on my tablet!
How do you build up your tours, a true discovery of a town through cinema?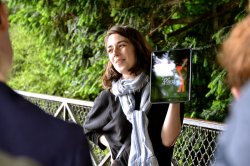 In order to build up my visits, I find locations related to cinema. I go to the library and on internet for documentation and I take notes whenever I watch movies in order to enrich my database of shooting or movie locations. For some venues, information can be more difficult to obtain. For Paris, I have been able to contact Mission Cinema once or twice. For the visit that I prepared in Montreuil, I contacted the head person responsible for issuing shooting authorisations in the town. These are just some examples. Sometimes, I also talk to directors to appeal for the latest movie reviews. Any source is most welcome.
From that point on, I list all of them on a map and I define the areas that seem the most interesting based on all the information that I have previously noted (shooting sets, places linked to the history of cinema, places still used for  movie shooting activities, addresses linked to personalities, etc.). I make all my location requirements onsite and I complete, rearrange or even modify my whole circuit based on what I can find. The visitors must enjoy the strolls. Therefore, the environment has to be attractive: there must always be something to see even if it isn't linked to cinema. I complete my information with those links to the history of the neighbourhood. It is so much better if cinema can be the window to speak about these districts.
You have created a movie walking tour in Montreuil, the town of the first film shooting studios. What can you say about this?
As part of my masters and for my thesis, I was particularly interested in the early stages of cinema.  The film director Georges Méliès, built the first shooting set studios in the world in Montreuil so I immediately identified Montreuil as the town of cinema.
I also knew that the the studios Pathé/Albatros were very active at the beginning of the 20th century and more recently I learned that the inventor of cartoons, Emile Reynaud, was born in that town. Montreuil had certainly been true witness of the evolution of cinema.
Lean more about cinema in Montreuil
What do you want to show in this tour?
What I want to show also is, that this town has remained very active in the question of cinema: many film shootings and international and national series, a famous movie theatre, production companies, workshops, studios, film directors and actors are committed to the town, etc.
More walks and guided tours in Paris
Discover our other private tour guides in Paris.