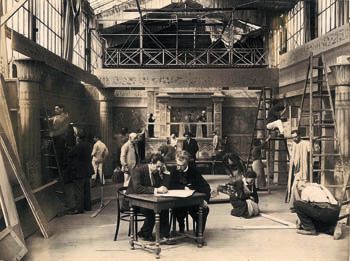 The history of Seine-Saint-Denis is linked to the history of French cinema and animated pictures. The praxinoscope Émile Reynaud, was born in Montreuil, and it was patented in 1877. It was a major milestone in the step towards cinema and led its author to the threshold of the invention of film. In 1892, three years before the Lumière brothers cinematographic period, he presented the show "Pantomimes lumineuses" with his camera, improved with " optique theatre ".
The first cinematographic studios...
In 1897, Georges Méliès, prestidigitator and director of Robert-Houdin theater, built his first cinema studio in his garden at Montreuil. The Star-Film was born and was to produce more than five hundred films, including the famous Voyage dans la lune. Georges Méliès was thus the genius pioneer of cinema as a performance show and the inventor of special effects called then "trickery effects". The same year, Pathé brothers, heading "Compagnie générale de cinématographes, phonographes et pellicules" became the first cinema company in the world, commercializing cameras at Vincennes. They built the Montreuil studio, near Méliès' one. They offered it, in early 1920, to a group of Russian cinema makers against the promise that they would entrust them with film distribution. The Russian filmmakers give birth to some of their masterpieces of silent cinema and their success gave a big boost to French film production. That film studio, Pathé-Albatros, still exists. Today, Pathé is situated in Saint-Ouen.
In 1908, Émile Cohl, who worked at Montreuil, invented cartoons for cinema with Fantasmagorie and made animated pictures a fully-fledged art. In the studio of Montfermeil,  Albert Mourlan, from 1919 to 1939, created cartoons and animated movies, as well as technical, scientific and advertising movies.  In 1907, studios Éclair emerged. One of the two co-founders of the French company films Éclair, Charles Jourjon wrote to the mayor to create "a factory that will make no noise, no smoke, no smell and will only be occupied by a small amount of workers… It will be an industry of art and luxury".
… Shooting of major French Films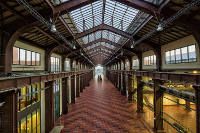 Classics of French cinema classics were made here by some famous film directors René Clair, Jacques Feyder, Jean Renoir… Many cinema makers shoot their films there today: Alain Resnais, Michel Deville, Bertrand Blier, Claude Sautet, Luc Besson… Eclair laboratoiries continued to be innovative: first talking movie in French, several films in color shot in France. The new laboratories', inaugurated in 1992, are at the forefront of digital technology.
Other studios have emerged, in Aubervilliers, where François Ozon made the film  Huit femmes, in Saint-Denis, and Stains…And also, around shooting activities, many companies have brought their savoir-faire : decor, costumes, lighting, shooting, dubbing…
Today, the project of Cité du cinema, the French film city found its place in Seine-Saint-Denis. Supported by the director and producer Luc Besson, the aim was to provide to France major equipment and facilities on the model of Britain Pinewood studios. This new equipment consolidates the tradition of cinema in Seine-Saint-Denis.
Consult the list of cinemas in Seine-Saint-Denis