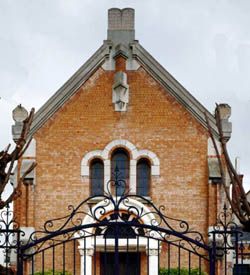 The Jewish community in le Raincy created a cultural association in 1926. Contrary to the synagogues of Livry-Gargan and Aulnay sous Bois; the association in le Raincy applied directly to the ACIP (the Israelite Cultural Association of Paris) to build their synagogue in March 1929.
A facade made of exposed bricks
The matter was a little complicated because the consistory of Paris was facing significant financial difficulties. The synagogue in Belleville was built at that time and they were already unable to cover the expenses for rehabilitation of the one in Montmartre. Fundraising was organized. Finally, the synagogue in le Raincy was built in 1930 and the inauguration took place on 6th September 1931. But the cost of construction having absorbed the entire funds, the inside could not be finished. Financial problems lasted throughout the decade. Design of the building was entrusted to Henri Guimoneau, a local architect who did not belong to the community. This synagogue is very different from those in Livry and Aulnay. While the exterior walls of the latter are simply painted, the facade and the side walls in le Raincy are made of exposed brick. The entrance porch, vaulted and supported by two sculpted capital columns, preceeds a hallway giving access to the prayer room.
Larger than the other two, it measures 15.50 meters long and 8.90 meters wide. The reading stand for holy books, the Bimah, placed in front of the Aron Kodesh, is accessible by a flight of stairs at the end of the room oppposite the front door. The gallery reserved for women occupies the entire width of the building above the entrance. Its surface is very small and access via a staircase reduces even more the number of seats. The synagogue in le Raincy can accommodate about 150 men and 40 women. The walls are bare and some stained glass windows illuminate the room facing West (contrary to tradition which states that it be facing East) Buildings not too ostentatious or ornate Henri Guimoneau designed a highly strict building. The only "fancy" aspect can be seen in the porch. A wrought iron six-pointed star is lodged in the arch of the barrel vault which makes up the top of the porch. This porch is overhung with a triple neo-Roman opening, recalling that of a church. The Star of David is also present, crowned by an acroterion, at each angle of the façade of the building. The Tables of the law crown the whole of it. In general, synagogues are not, like churches or mosques, complex structured buildings or overly decorated. These buildings are not very ostentatious, but they do always include the Jewish symbolic elements of the Tables of the Law and the Star of David, a six pointed star. The architects of the three synagogues in Seine Saint Denis were able to produce an architectural language in the way they worked the facades.