An exhibition hall was inaugurated in June 2015 at the Air and Space Museum for the occasion of the seventy years since the end of the Second World War: Normandie-Niemen Space.

Normandie-Niemen, a regiment of resistant aviators
Normandie-Niemen was the name of the French fighter regiment fighting against the Nazis on the Eastern front during the Second World War. Following the appeal for resistance by De Gaulle, the Free French Air Force was created. This gathered together all airmen ready to go to the front. These voluntary aviators risked the death sentence by the Vichy Regime and were forced to leave for Russia. The General De Gaulle wanted the FFL on all combat zones. He made an alliance with Staline and managed to send a free special unit alongside the Red Army. This unit was called the "Normandie" and then "Normandie-Niemen" and made a victorious return to France with 273 victories which unfortunately cost the lives of forty two volunteers.
Normandie-Niemen space at Air and Space museum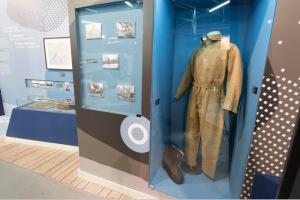 Normandie-Niemen relates the relatively unknown episode of the war but which had a great influence on the links between the French and Russian aviators. This Franco-Russian friendship lasted beyond the cold war and diplomatic tensions.
This permanent exhibition space of 300m˛ presents a collection of objects and personal documents: objects, outfits, paintings, models, videos… that illustrate the lives of pilots, and their daily lives and battles during the two years they spent on the Russian Front.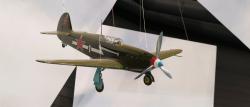 You will particularly discover a Yak 3, which landed in Le Bourget on 20th June 1945 when the unit came back. It is in fact a last example of the planes used on the Russian front. 
The collection in the Normandie-Niemen hall at the MAE is divided in 6 parts :
Constitution
Campaigns
Daily life
Pilots and aircraft mechanics
Planes
The return
Visitors have free access to this hall. The hall is closed from 12:00pm to 1:00pm.
Learn more about french heritage, all in english right there.
FYI
On June 19, 1945, the 40 Yak 3s of the Normandy Niemen landed at Le Bourget airport in front of a crowd eager to welcome them. The plane exposed in the Air Museum is the last survivor of this epic.