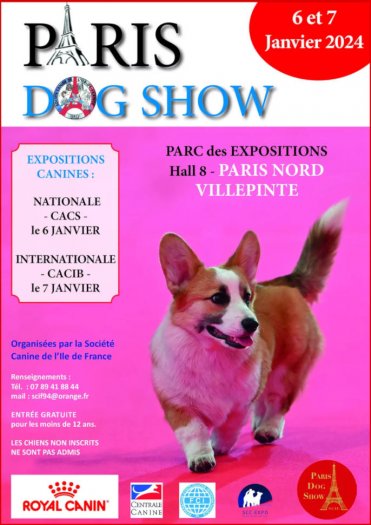 A national and international canin exhibition, the Paris Dog Show will be held at Paris Le Bourget exhibition center with the prettiest and cutest dogs and puppies af all breeds and all categories. You'll be able to see the nicest dog breeds during this canin contest.
PARIS DOG SHOW – canine exhibition
Two days of exhibitions in the Hall 4 at le Bourget Paris
Awards presentations
National award CACS / SCC
International award CACIB / FCI
9 A.M: opening and presentation of the different breeds of dogs in all categorie. It is the perfect moment for the public to discuss with the dog owners, and professionals.

Around 3-4 P.M: presentation on the ring of honour of the best breeds of the different categories and attribution of awards for the first three dogs of each inspection.
Young Presenters, Couples (opposite sex), Pairs (same-sex dogs), Affix (Cattery name, coming from the same breeding lots), Breeding animals (direct descendants), Hounds, Babies, Puppies, Young dogs, Veterans, the best in show of male or female dogs and the best in show of groups.